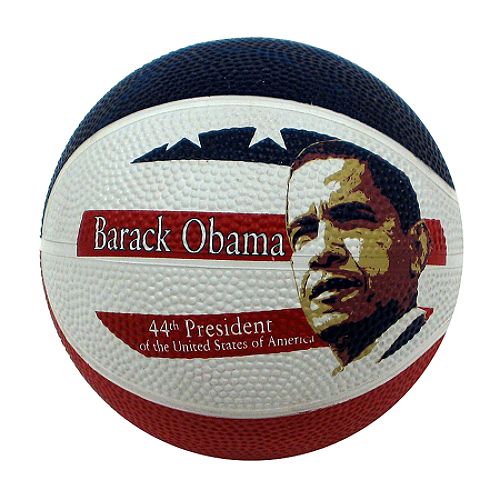 Originally posted at American Thinker. blog
Lately whenever the word "basketball" is mentioned, the name Obama is usually brought up in the same sentence. On Friday, Obama burned up the court and paid for it with 12 stitches after he was bashed in the chops by a wayward elbow. On Saturday, sporting a lip sewn up with black sutures, "President Obama was back courtside to see a game between Howard University and Oregon State."
On Sunday morning, Obama piously approached the First Church of the Hardwood located inside the Interior Department building not to pray, but to play – you guessed it – basketball.  This time, Obama challenged Malia and Sasha to ensure that all elbows in the game were safely located well below chin level.
Besides Sasha and Malia, Obama has shot hoops with Russian kids and dribbled all over the blacktop with "NBA all stars LeBron James, Dwyane Wade, Carmelo Anthony and … retired legends, including Bill Russell and Magic Johnson."
One player Obama has yet share the court with is former pro basketball star "Sir Charles" Barkley, and he likely never will because recently Charles dared to publicly denigrate "Sir Barry's" basketball skills on late night television.  For a basketball all-star wannabe with a huge ego like Barack Obama's, "The Round Mound of Rebound" criticizing his jump shot could evoke a response from the President better left to the likes of Kim Jong-Il and Mahmoud Amadinejad.
Chuck suggested to Conan O'Brien that he could "beat the president in a one-on-one."  Barkley said, "I'm an old fat guy now, but I'll kick his ass."  First a split lip, now a 6 ft. 6 in., 252 lb Barkley threatens to come up from behind and place a high top square center on the President's rear.
Among other things, the always-verbose Charles Barkley has been known to vacillate back and forth, playing both sides of the political court.  Based on Barkley's Republican vs. Democrat experience, this time the former NBA star perceptively evaluated more than the President Obama's jump shot.  In three short sentences, Charles pointed out the inflexible propensity that left-shooting hoopster Barack Obama allows to dictate everything from his approach to a basketball hoop to how he governs the country.
After talking trash about "fat guys" and damaging asses with his signature shoes, Sir Charles opined: "Obama's biggest problem? He's a lefty. He always goes left. And if you just stand there, I'm not sure if you were to open up the right side, he could go right at all." Translation: Even if given an opportunity to moderate to the center, it's impossible for Obama to move any way but left.
Well, there you have it – a middle-aged, overweight, politically fickle ex-basketball star with an affinity for women and booze has issued an unofficial challenge to the skinny guy with the stitched-up lip, personalized basketball jersey, and predictable left-leaning shot. If moving right were the only position, in or out of politics, that guaranteed a high number on the scoreboard, Barack would rather remain true to the left and lose than advance to the right and win.
Charles' chances to follow through on his Conan "kick his ass" threat are almost certain, because regardless of how adjustable Obama pretends to be on the court, he approaches basketball in the same way he does politics:  Always from the left.