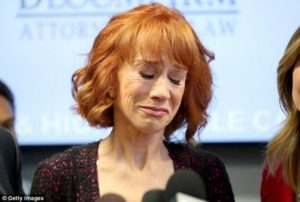 Originally posted at American Thinker.
Liberal comedienne Kathy Griffin abhors Donald Trump.  To make that point, the D-list provocateur decided to rabble-rouse a bit by hiring an edgy photojournalist to take pictures of her holding a likeness of the commander-in-chief's severed head.
When Donald Trump, the object of her harassment, chose to express his opinion about Griffin's twisted publicity stunt, the comic responded by accusing the victim of misogyny.  Kathy Griffin made a threat against the president, and now, after suffering the consequences of a joke gone badly, the liberal woman is looking for an excuse to blame the victim.
In other words, Kathy Griffin slept with the devil, and now she wants to abort the spawn she's conceived by saying she was a victim of political rape.
At a highly publicized press conference, Kathy Griffin, the daughter of a white man, pulled the pink pussy hat card by accusing "a bunch of white guys [of] trying to silence [her]."  Griffin maintained that if she were a "white man" (like Planned Parenthood executives), she'd be able to laugh about decapitated bodies and no one would care.
Ms. Griffin's defense for paying photographic homage to a terrorist group was to admit that she's "[n]ot good at being appropriate."
For that matter, neither is ISIS!
That's why, unlike her mentors, rather than have the courage of her convictions, Griffin chose to indict "[t]he president and his grown children and the first lady [for] personally trying to ruin [her] life forever."
Griffin saying Donald Trump is a "bully" for reacting negatively to being threatened with decapitation is like Hillary Clinton telling anyone who will listen – for $250K a pop – that Putin and Macedonia cost her the election.
Wait!  It gets better.
At the press conference, Kathy Griffin's lawyer, Lisa Bloom, the daughter of famous sexual harassment bottom-feeder, Gloria Allred, sneered when asked about the report that young Barron Trump was upset when he saw the gory image of his father.  Bloom said, "We don't know that.  You're assuming that everything that Trump says is true, and in fact, we know that everything Trump says is false."
So, according to Lisa Bloom, Kathy Griffin's beheading stunt is about Trump lying?
How can people with the imagination to dream up Trump being in cahoots with the Russians scoff at the idea that a blood-drenched replica of his dad's head would spook an 11-year-old boy?
Notwithstanding the irreverent disregard for children, how does Kathy Griffin, a woman who regularly shills for the #shoutyourabortion crowd, have the audacity to appear at a press conference whimpering like an infant because she's hurt and frightened?
Kathy Griffin attempted, albeit poorly, to be a firebrand, but when the fire turned around and branded her on the rear end, she crumbled into a sniveling mound of "poor me" – which proves that liberals sure can dish out the excruciating pain.  However, when it's their turn to suffer the consequences of their own actions, such disher-outers can't take even a smidgeon of what they impose on the defenseless.
Kathy Griffin loves to wave the flag for the right to dismember unborn babies but cries when someone says or does something that makes her feel bad?  Kathy's reaction can be likened to an executioner complaining because he got a splinter from gripping the wooden handle of his ax.
Nonetheless, in addition to being just plain loathsome, Griffin told gullible reporters that the bloody head was her creative reaction to the comment Trump made to Megyn Kelly about "blood coming out of her wherever."  Does Kathy "CNN" Griffin really expect the "what do we look stupid" public to believe that her left-wing photo-shoot paid homage to a former Fox News diva?
Unsure about what she meant when she mentioned her "career," Griffin told the press that she fanaticized about decapitating President Trump because he "broke her."  More appropriately, this little sideshow may be more about Kathy not wanting to end up broke than it is about Donald Trump "breaking her."
Either way, since threatening the life of a sitting president, Kathy Griffin says she has received "detailed and specific" death threats from someone other than herself.  One such blow came from CNN, who exterminated her New Year's Eve spot with Anderson Cooper, and another came in the form of pooping stool Squatty Potty dumping Kathy's gig.
As a result of her uncontrollable urge to present decapitation imagery, Griffin is now despondent because, like a corpse without a head, she doesn't expect her sorry excuse for a career to recover.
Then again, maybe the Kathy Griffin press conference was just the comedienne's way of doing what she does best when she swears, "I just want to make people laugh."
After all, it is kind of funny to hear that holding up a severed head made "everyone turn on her."  It is also amusing when a joker, who built her career on making vile sexual references, refers to Donald Trump with a double entendre such as, "I am not laying [sic] down for this guy."
Better than that, how about a person currently under investigation by the Secret Service concluding that "[t]hey are using me as the shining object so no one talks about his FBI investigation"?
After the mock decapitation of a man whose style is "frankly an acquired taste," who wouldn't giggle hearing the one who performed the amputation defend the indefensible by admitting, "I am barely an acquired taste"?
Griffin's justification for her behavior is that she was just being herself?  Isn't that exactly what Trump is guilty of – being himself?  And so an admitted inappropriate entertainer takes a photo holding the head of someone a lot like herself?
After standing by the apology she felt she didn't need to make, Griffin said of Trump, "I am going to make fun of him more now."
With that in mind, maybe next, just for laughs, Kathy Griffin will star in a video displaying President Donald J. Trump tied to log headed for a buzz saw.  Then, instead of taking responsibility for pretending to assassinate the president a second time, Kathy Griffin can inspire sympathy by claiming she is "broken" over Trump leaving the Paris Accord.
Read more: http://www.americanthinker.com/blog/2017/06/kathy_griffin_blames_the_victim.html#ixzz4kOwk5WD5
Follow us: @AmericanThinker on Twitter | AmericanThinker on Facebook