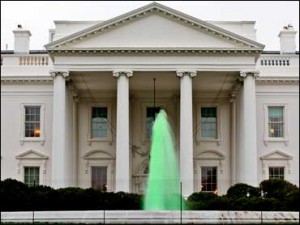 In Style Magazine sent a crew right over to 1600 Pennsylvania Avenue yesterday morning to do a story on the new level of panache that has permeated the White House. Apparently, in an effort to reenact the same atmosphere as the South Side of Chicago's green river, the North Side of the White House lawn's fountain had its frothy water dyed green in honor of St. Patrick's Day. Not since John F. Kennedy has such innovative flair and cutting edge class resided at the people's house.
When asked why the First Lady decided to institute this ground-breaking tradition she said, "This is America not as it was…but as it should be! For eight years, that fountain has flowed with crimson water symbolizing American's who have been lost or injured in George W. Bush's illegal war, now it's time for a Change and I'm initiating that Change by bringing some new color to this White House!"
The First Lady expressed excitement when sharing that the red, green and black, which she plans to have in the fountain on Kwanzaa, will require a little more creative forethought.  The fashion forward icon assured the press corps that she had full confidence that her White House staff will work out those details as the Kwanzaa season approaches.
The day was celebrated with all things Irish. Michelle came to breakfast in the same emerald green kia milla haute couture sleeveless dress, she donned for the White House Stevie Wonder celebration, paired with  green suede Chukka boots, lined in politically correct faux fur. Of course the First Lady was wearing Tom Binn, her favorite Irish designer's jewelry and in honor of that famous Irish President Ronald Reagan, chose Binn's fabulously controversial Ronald Reagan piece.
Giggles prevailed with Sasha and Malia and the White House staff when Barry O'Bama showed up at breakfast in shamrock boxer shorts, Irish twill Donegal cap and black patent leather shoes with over sized gold buckles. Michelle requested that her usual morning grits be green and that Irish Oatmeal cake be served for dessert in place of the usual family favorite HuckleBarry Cobbler.
It seems as though there was more than orange juice served for breakfast because in good fun, Barry O'Bama thanked himself when introducing Irish Prime Minister Brian Cowen. The Prime Minister was a few lines into his own address when he realized he was repeating Barry's speech off  the teleprompter. Chuckling in a heritage-boasting Irish belly laugh Mr. O'Bama returned to the podium and explained to the puzzled audience that the St. Patrick's Day leprechaun hat he had placed on the teleprompter slipped over the script and screwed the whole thing up.
Barry must have been taste testing the contents of a small fountain, which Mrs. Obama asked be duplicated for her scheduled cocktail reception, prior to the event. The replica was filled with "green sparkling wine from a Californian vineyard." The green libation, together with her favorite creamed dishes spinach and broccoli soup, made the occasion Irish in every way. Mrs. Obama prepared a short speech to offer heart-felt apologies to the Irish Prime Minister for her daughter Sasha's culturally insensitive attitude toward all things green. She explained, "Sasha still does not like the broccoli soup. To kids it's green and it's horrible."
The President, with a lampshade on his head, from the old Bush family living quarters, joked "about the free-flowing bar and warned guests not to wear lampshades on their heads in front of the cameras." Barry's playful antics were met with jovial hilarity from Irish "Chieftain" Brian Cowen, who had still not fully recovered from the teleprompter incident earlier in the day.
The American Taoiseach spoke about his own Irish heritage and how his family, on his mother's side, came from a small Irish town called Moneygall (which explains why he has the absolute gall to take our money the way he does).  Falmouth Kearney, O'Bama's great, great grandfather "was born in County Offaly, before immigrating to the US in 1850. " In spite of her husband's obvious ethnic pride, Michelle refused to recognize great-great grandpa Kearney. It appears that when Michelle's ancestors were escaping on the Underground Railroad, there is evidence that Falmouth was a slave owner just five years after arriving on American shores.
Cowen presented the O'President with a Waterford Crystal Bowl filled with shamrocks, which the First Lady asked to be tossed into the salad by the White House Chef in an effort to show solidarity with the Irish.   Immediately following lunch, Nancy Pelosi showed pictures of her "Irish" grandchildren, Sean, Liam and Ryan, while the Corrigan Brother's performed, There is No One as Irish as Barack O'Bama. Speaker Pelosi tearfully acknowledged the absence of the greatest Irishman of them all, Teddy Kennedy. She then offered a toast of Guinness and had the attendees forgo the traditional conga line to participate in a short  Irish step dancing class in his honor.
Leprechaun teleprompter incident aside, a good time was had by all. It was Guinness, politically correct gay-llic pronunciation, green soup, sea-foam green in the fountain and an AIG greenback scandal in the news. Even Erin GO'Bama was feeling the luck of his 3% Irish and counted on the future possibility of finally finding his Pot-O-Gold on the other side of a brightly colored socialist rainbow, brimming over with the money of every American tax payer.  So clink those icy mugs of beor ghlas and pile your plate with shamrock and radicchio salad its party-time at the Green Behind the Ears White House.
Copyright 2009 Jeannieology. All rights reserved. This material may not be published, broadcast, rewritten or redistributed