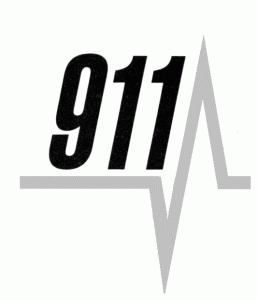 Originally posted at American Thinker. Blog
An innovative plan to charge for 9-1-1 calls is sure to incite nationwide copycat proposals when long-term savings show unlimited potential to benefit expensive programs like universal health care.
As if California taxes weren't exorbitant enough the town of Tracy, California, hoping to generate "extra revenue while it suffers a $9 million budget deficit," is requiring residents to "pay every time they call 9-1-1 for a medical emergency."
According to the Census and the FBI Crime Database Tracy's median age is 31-years-of-age with an expanding 40-65+ population.  The latter group requires the largest percent of 9-1-1 assistance and more importantly costly follow-up medical care, which presents the perfect excuse to begin charging for emergency aid.
In addition, Tracy, California's "unemployment rate is 9.90 percent. Recent job growth is negative [and] Tracy jobs have decreased by 4.30 percent." Couple those statistics together with the fact that in highly taxed California, the median household income in Tracy is only $74,773.00.
Sympathetic to added budgetary burdens, Tracy officials are working hard on behalf of elderly and economically hard-pressed residents.  Local government offers a cost saving choice for future recipients of 9-1-1 responses. "Residents can pay a $48 voluntary fee for the year, which allows them to call…as many times as necessary."
Renegade residents, who thumb their nose at the annual fee, when and if the big one hits, will be charged $300.00 for calling 9-1-1, or five times the annual fee. If a non-resident is ill-fated enough choke on a hot wing at Famous Dave's BBQ, in addition to the cost of dinner, assistance will cost $400.00.
Bottom line — if short on cash or too incapacitated to recite a credit card number over the phone, despite a broken pelvis — Granny may likely have to drive herself to the hospital.
What reason other than curtailing health care costs could there be for charging people calling for help in the throes of a stroke, being chased by a rapist, or cutting off a few fingers on a table saw?
With health care cost reduction in mind, it will be interesting to see whether the aging population in Tracy diminishes to the degree that government interest is piqued.   Let's face it forgoing a 9-1-1 call could "kill a few revenue birds" with one stone. While obvious health care cost savings would come from those who expire because of choosing to save money, fees could always be garnered from those gasping for breath that, at the last minute, deciding they'd rather live.  In addition, not having to gas up fleets of ambulances or hire additional 9-1-1 operators provides extra profit in local government coffers.
Federal programs could reap an advantage if Tracy, California's innovative 9-1-1 policies  ascend to the national level and are folded into health care reform.  For the "common good," Obama can encourage anyone in need of life saving assistance verify the bottom line in a checkbook first before crawling to the telephone clutching his or her chest.
For many dying may be a more attractive option than paying.  As a viable way of escape, it's to the point where oppressive taxes and extraneous fees are making traumatized people apt to forgo calling 9-1-1.  Either way, even those who choose to not shell it out will eventually cough it up after policy is undoubtedly proposed requiring the $300.00 be paid for picking up the dead in a coroners van.