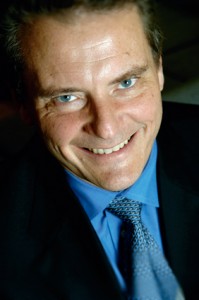 Originally posted at American Thinker. Blog
The people living on the Gulf Coast should not take offense to BP Chairman Carl-Henric Svanberg's "small people" comment.  Mr. Svanberg was not referring exclusively to the victims of the oil disaster but to the majority of Americans.  To Chairman Carl, it is big up here and small down there.
Mr. Svanberg spoke on behalf of large oil companies and directed apologetic comments toward the peons, serfs and the menial working class. A contrite Carl-Henric extended socialist-democracy sympathies for BP's negligence prior to the explosion saying, "I hear comments sometimes that large oil companies are greedy companies or don't care, but that is not the case with BP. We care about the small people."
The BP Chairman made the "small people" statement after meeting for twenty short minutes with America's "biggest person," Barack Obama.  The President strong-armed a big deal by getting BP to commit to putting "$20 billion into an escrow account to cover damage claims from the massive Gulf of Mexico spill."
The result will be "small people" being doled out funds by the "big guy's" little people payout-pay czar, Kenneth Feinberg.
After a meeting and joint press conference with Barack Obama, those who were offended are being encouraged by an official BP spokesperson to be "bigger people" and view Svanberg's "små människor" comment as a Swedish slip up.
A BP spokesperson clarified for Svanberg saying. "It is clear that what he means is that he cares about local businesses and local people. This was a slip in translation."
Gulf Coast commercial contractor Lyn Ridge, 47 just shook his head when told about the "small people" comment. "They can say he didn't mean it that way, but that's how they think of us," Ridge said. "They can't keep their foot out of their mouth," Ridge added, referring to another BP executive's desire to have his "life back."
BP Chairman Carl-Henric Svanberg earns about $1.1 million dollars a year and cruises the South Pacific in 69-foot yacht. If salary determines stature, compared to the well-heeled Mr. Svanberg, a shrimp fisherman is a "small person."
The insulted people in the Gulf need not be concerned with Carl-Henric Svanberg's opinion of them. After all, the Chairman is writing the checks.  It simply doesn't matter.  What matters is Carl's White House talk with Barack Obama.
Based on Svanberg's post-meeting comments, all Americans should be concerned.  Because it is likely while behind closed doors with President Obama the BP Chairman repeatedly referred to Americans as "small people," but emerged from the encounter uncorrected.