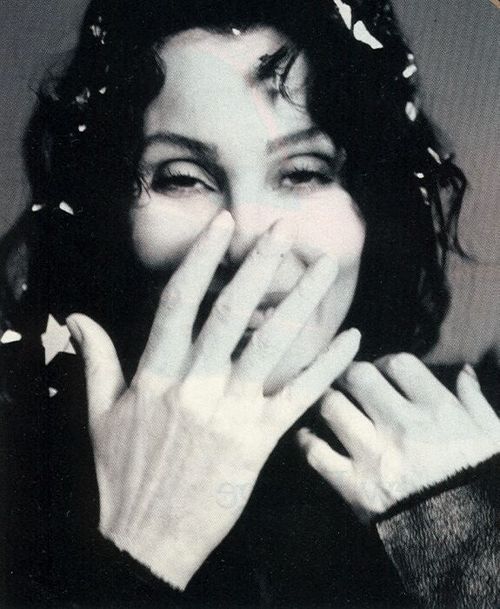 Originally posted at American Thinker.
Cherilyn Sarkisian, better known as "Gypsies, Tramps and Thieves" singer Cher, claims to "dislike politics and says she's not a registered Democrat." While swearing aversion to all things political, Cher has visited the White House to dine with former President Jimmy Carter and professes love for Joe Biden, a man the Academy Award-winning judge of character and intellect once described as caring, good-hearted and smart.
The supposedly politically neutral female half of the late Sonny and Cher duo also believes socialist Dennis Kucinich "has great answers," and during Hillary Clinton's "Senate thing" pitched in to help after spending "a lot of time just sitting" with the former First Lady.
Anti-war Cher also holds firmly to the belief that "[w]ords are like weapons; they wound sometimes," which is a curious sentiment coming from an apolitical woman who has a tendency to label most Republican politicians "stupid."
In fact, prior to George W. Bush being elected president, Cher registered an opinion of the Republican candidate in the following way: "I don't like Bush. I don't trust him. I don't like his record. He's stupid. He's lazy."
Usually when one person calls another person "stupid" it's because the name caller views himself or herself as more intelligent than the callee.  Evidently, the way Cher throws around the word "stupid," the high school dropout clearly considers diva brainpower superior to a traditional Harvard education.
Prior to the 2000 election, Cher felt compelled to perform a public service by sharing with American women and minorities the admonitory view that "[i]f you're black in this country, if you're a woman in this country, if you are any minority in this country at all, what could possibly possess you to vote Republican?"
Ms. "Words …wound" Cher eloquently cautioned against voting for Bush by saying "[h]as everyone lost their f—ing minds? Doesn't anybody remember the illustrious Reagan-Bush years when people had no money and no jobs? What has happened to people's memories? It's like they have Alzheimer's or something."
While meant for the betterment of all Americans, Cher's instructive comments tend to emphasize the political threat that "Jerry Falwell…born again Christian" types, in the mold of G. W. Bush, pose to women and minorities.  Nevertheless, Cher, having a history of public exhibitionism which over the years has consistently placed the sisterhood in a demeaning light, has zero compunction about censuring Republicans.
If female exploitation is Cher-the-whiz kid's main concern, maybe the raven-haired senior citizen in garter belts could "turn back time" and explain why, during the "illustrious Reagan-Bush years," she chose to dance around in a fishnet body stocking under a bikini on the upper deck of the USS Missouri battleship. Way back in 1989 Cher, microphone in hand, skipped to-and-fro in front of a large group of sailors who whistled and directed catcalls toward her mostly-bare buttocks, and did so while Cher's 12 year-old son Elijah Blue Allman accompanied his scantily clad mother on the guitar.
If one definition of stupid is "poor decisions and careless mistakes," Cher's behavior in the Long Beach Naval Shipyard certainly fits the criteria. Maybe young Cherilyn was absent or had already dropped out of school when "stupid" was reviewed on the vocabulary list.
Despite her lack of better judgment and less-than-brilliant personal behavior, the profoundly perceptive singer recently felt compelled to once again convey another articulate opinion of two female governors in Vanity Fair magazine. Cher expressed horror over the former governor of Alaska in the following way: "I got so obsessed with [C-SPAN] that it was kind of interfering with my life. Sarah Palin came on, and I thought, oh, F- – -, this is the end. Because a dumb woman is a dumb woman."
Ms. Sarkisian continued to speak out. On the subject of Arizona governor Jan Brewer, she declared that "[s]he was worse than Sarah Palin, if that is possible. This woman was like a deer in headlights. She's got a handle on the services of the state, and I would not let her handle the remote control."
Evidently, Cher not only feels qualified to identify the intellectually challenged, the woman in the "towering 2-foot headpiece made of rooster feathers" also believes she has the adroit ability to spot gifted brilliance in random people. The self-professed politically neutral performer labeled Bush, Palin and Brewer as "dumb" and "stupid," but recognized President Barack Obama's "intelligence" and "spirit" as "so great" that she predicted America's first black president would be able to do "more than anyone could possibly do," whatever that means.
Based on Obama's presidential performance thus far, Cher should avoid both punditry and prophecy.
The historical election of brilliant Barack prompted Ms. Cher to express relief, confessing that "Republican rule almost 'killed' [her]," and that although not a registered Democrat, she "does not understand why anyone would want to be a Republican."
Having to endure the heartbreak of a daughter named Chastity transforming into a son named Chaz didn't kill Cher. Being married to Greg Allman during the height of his cocaine, heroin and alcohol addiction didn't kill Cher. Going under the scalpel so many times that she dubbed herself "the plastic surgery poster girl" didn't kill Cher, but having George W. Bush for president nearly killed her?
Cher's personal lifestyle choices, contradictory statements, colorful language, partisan denials, and chauvinist statements may make the singer/actress a perfect candidate to host her own show on MSNBC.  But then again, the former Mrs. Bono's flippant use of the word "stupid" could jeopardize future opportunities to fulfill the role of an off-the-cuff pundit.
Waxing philosophical, Cher once said "Until you're ready to look foolish, you'll never have the possibility of being great." Ironically, "stupid" is also defined as "foolish." Labeling Republicans "stupid" proved Cher Bono was unwittingly referring to herself when sharing the opinion that "a dumb woman is a dumb woman."