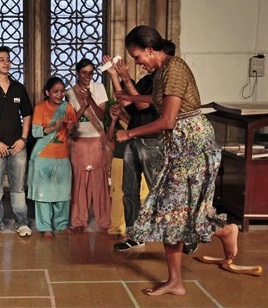 Originally posted at American Thinker. Blog
Accompanying her husband on a diplomatic visit to Asia, Michelle Obama dropped in on Mumbai University. While Barack Obama was busy lauding the greatness of India's history, progress and economy, over at Mumbai U Michelle amused kids who otherwise would be rag picking or sleeping in sewers.
The First Lady danced "to the theme song from the 2006 Bollywood movie Rang De Basanti for street children from an NGO program called Make a Difference. In an effort to further international relations, Mrs. Obama kicked off those fabulous gold flats, banged a tambourine and danced solo, twirling before her delighted audience in joyful abandon.
Besides hopscotch and freestyle Koli dancing, youthful firewood collectors, animal tenders, beggars, prostitutes, and street vendors listened intently as Michelle recounted personal hardships and sad stories about a beleaguered Chicago childhood.  When not totally absorbed in Indian exhibition dancing, the First Lady related to those who subsist "amidst trash, animals and open sewers" a heritage replete with poverty.
Michelle said, "I didn't grow up with a lot of money." Reminding exploited youngsters that rough childhoods are not exclusive to India, Mrs. Obama exhorted those that sleep curled up on railroad platforms to follow her lead and make sure to get an education.
After presenting waifs with bags of stationery and "White House M&M sweets," the First Lady put her very expensive Cynthia Vincent ballet flats back on and headed toward New Delhi on a one-woman mission to stimulate India's economy.
Behaving like royalty in a dearth-plagued country filled with street urchins who oftentimes go without food, Mrs. Obama descended on the National Handicrafts and Handloom Museum in the Pragati Maidan complex. While there, the well-heeled First Lady disregarded the abject poverty beyond the walls of the museum and, for two hours, furthered diplomacy by procuring frivolous curios and trinkets.
According to museum director Ruchira Ghosh, "Michelle was so impressed with the Indian handicrafts on display that she did not want to leave the museum. She went on a shopping binge, buying almost everything she came across." As a gentle New Delhi breeze blew through the museum, a musical backdrop for Michelle's supermarket sweep was provided compliments of West Bengal 'baul' folk singers.
Michelle's "shopping list included four embroidered kantha bed spreads, Kutchi mobile phone bags, Kutchi dolls and from Gujarati a 'yogi thaila,' which was a cloth bag with sequins and heavy embroidery."
"Michelle also bought wooden toys from Karnataka, wooden key chains, three wooden Ganeshas, and a wooden toy train. Part of the gifts she bought were also elephants and fans made of rice grain and rice stalk."
On hand to assist Michelle-the-Merchant-Ship in the gathering of goods from afar were "15 underprivileged girls of an NGO [with] keen interest in the welfare of the girl child." After entertaining/counseling street children in Mumbai, and in between stuffing shopping bags with anything she could get her hands on, the First Lady reconnected with needy children in New Delhi and "answered queries about her dreams, her life, her daughters and enquired about the children."
Those at the museum who watched in slack-jawed amazement related, "Michelle said she would have bought more had she been left with more money." The "bought more if more money" sentiment is precisely the one held by Mumbai's street children, as well as the millions of people that America's ambassadors to India, Michelle and Barry, left back home standing on an unending unemployment line.