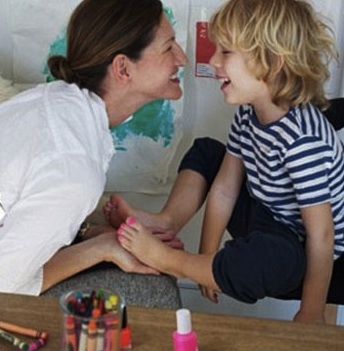 Originally posted at American Thinker.
Bebé Glotón, the doll that teaches non-lactating seven-year-olds how to nurse, is back in the news.  Fox News contributor Dr. Keith Ablow, who finds the doll age-inappropriate, was attacked on air by "Mommy Blogger" and "Parenting Expert" Jessica Gottlieb who all but accused the good doctor of being some kind of depraved pedophile.
When Alisyn Camerota of Fox News asked Ablow what he thought about Bebé Glotón (Glutton Baby) teaching the under-10 set the ins and outs of let down, lanolin nursing bras, and suckling sounds, Dr. Ablow replied:
It's beyond ridiculous. It's destructive. Little girls aren't even aware how their secondary sexual characteristics will develop, let alone imitating how they'll be used after childbirth. This is another way of turning little girls into adults. It blurs the boundary between children and adults in society. It contributes to the sexualization of children and it makes them targets of assailants, frankly, because it blurs that boundary. It's a terrible, terrible idea.
Jessica Gottlieb, BA in Kinesiology and MA in Education, wasn't going to stand by and let a sexist like Dr. Keith Ablow, Doctor of Medicine with a degree from John Hopkins Medical School, a psychiatry residency at Tufts-New England Medical Center, Newsweek writer, and medical director of two mental health centers, insinuate that sex organs are sex organs.
Oh no!  Ms. Gottlieb corrected Ablow, immediately saying, "I'm going to have to respectfully disagree."  Jessica Gottlieb (supposed left-coast registered Republican who voted for Obama) told Ablow, "I'm not sure that if you see a little girl as her breasts being sexual that that doesn't reflect more on you than on what breasts are."
Really?  Mommy Blogger Jessica pulled the usual liberal stunt of undermining the sane one with wild accusations.  Or is it that Jessica is so busy blogging that she isn't aware that mammary glands are part of the female reproductive anatomy and Dr. Ablow was merely saying that little girls don't need to be focusing on a process that starts with sex and ends with nursing?
Mommy Jess succeeded in putting Dr. Keith on the defensive by forcing him to explain that just because he doesn't believe a breastfeeding doll is appropriate for children doesn't mean he has a predisposition toward seeing kindergarteners as sex objects.
Nonetheless, if one listened closely, there was an even more disturbing comment made during the debate that needs to be prefaced with a little background having to do with a new trend whose goal is to foist gender confusion upon children at a time in their lives when tender psyches are developing.
Presently, in conjunction with redefining marriage, there is a movement picking up steam across liberal America where the goal is to blur the lines between the sexes and do away with evil gender stereotypes.  For some liberals, the new blue is now pink for boys and the consensus is that "gender cages," where boys play with trucks and girls play with Barbie dolls, is a place where children who would otherwise be gender-neutral have been held captive too long.
Interestingly, the current gender discussion seems to be more focused on getting males to wear more feminine colors than on emphasizing that little Sally should emulate tomboy Shiloh Pitt, who Angelina Jolie insists dresses up "Montenegro style."  Right now the goal isn't convincing little girls to toss out the Little Mermaid costume and dress like Chaz Bono for Halloween, but rather to get little boys named Boo to don a red wig like Daphne from Scooby Doo.
One compliant gender-bender is a six-year-old from Missouri, pageant contestant Zander Miller, who was featured in TLC's Toddlers in Tiaras and on Good Morning America.  Proud mom Tracy says little Zander loves to join the girls in applying mascara and hairspray, and does so with the same enthusiasm as tow-headed Beckett in the J. Crew ad, whose toes are adorned with fuchsia pink nail polish applied by fun-loving/open-minded Mom Jenna.
Yet, despite her gender-neutral attitude, Jenna doesn't compare with Toronto trendsetters Kathy Witterick and husband David Stocker who raise their children Storm, Jazz, and Kio "genderless."
Recently, it was learned both Jazz and Kio are male, a revelation having nothing to do with clothing choice.
Jazz wears pink dresses and has three braids; purplish-pink-loving Kio prefers his blond curls long enough for people to mistake him for a girl.  Dad says that "[i]f you really want to get to know someone, you don't ask what's between their legs."  Unless, of course, you're trying to find someone to copulate with in order to produce a gaggle of genderless children — then what's hiding under the pink tutu becomes a major issue.
Then of course there is Dyson Kilodavis, more aptly known as "Princess Boy."  Little Dyson loves to dress up in Disney princess clothes.  Cheryl, Dyson's mom and author of My Princess Boy, realized that her discomfort with her son's predilection for pretending to be Cinderella was her problem, not his.  Mrs. Kilodavis said that "[a]fter taking a second to do some self-searching" she realized she was a victim of "years of preconceived" spiritual and cultural "notions from [her] childhood."  So, to deal with those predetermined ideas, Cheryl, who says Dyson has a "unique eye for all things beautiful," bought her son all the frilly clothes he could stuff into his Disney Princess Dress-up Trunk.
Getting back to Dr. Keith Ablow telling Ms. Jessica "Mommy Blogger" Gottlieb that "I assure you I'm not a pedophile at all," she replied with a statement that would do Princess Boy, pageant boy, and the Toronto parents of those asexual children proud.  In the midst of correcting a mental health expert, Gottleib expressed her own biased perspective that "[l]ittle girls and little boys watch their mothers feed babies and then they pretend to feed babies."  Little boys want to pretend to breastfeed?
It sounds as if over at parenting expert Jessica's Los Angeles house, in conjunction with fostering a genderless society where breasts are no longer sex organs, the Mommy Blogger would have no problem if nine-year-old son Alexander took a break from Yo Baby Kick Flipper and spent the afternoon nursing his very own edition of gluttonous little Bebé Gottlieb.
So there you have it: the gender reprogrammers have a new tool.  In the hands of a parent or parents more determined to abolish gender, a doll now becomes an implement in the war on sex roles.