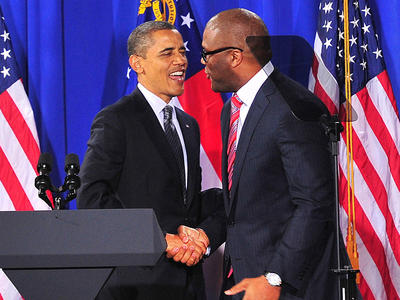 Originally posted at American Thinker. blog
Recently, it was uplifting to hear actor/director/playwright/producer/author/songwriter Tyler Perry speak so movingly at the funeral of his friend, the late Whitney Houston. Broadcast live from the New Hope Baptist Church in Newark, New Jersey, Tyler Perry gave tribute to Whitney and in doing so, at least for a few minutes, transported a largely godless nation to church for the afternoon.
According to self-professed Christian Tyler Perry, despite Houston's struggle with addictions, hardships, a failed marriage, and times that were sad and tough, her constant response to the pain and heaviness that accompanied life's many trials was "But the Lord." Perry expressed to a congregation of mourners that, despite her tragic, untimely death, as her friend he was thankful for all that God had done in Whitney's life and how, through it all, she still loved and trusted God.
Then Perry made a statement, which, for those who have ears to hear, could only be interpreted, as pro-life. Sounding like a fired-up preacher, he said that it was grace that "carried [Whitney] from heaven down through Miss Cissy Houston," and into the world where she lived her life.
Despite Perry's controversial movie, which depicts a back alley abortion, For Colored Girls Who Have Considered Suicide When the Rainbow is Not Enuf, one could only glean from such a statement that this strong Christian man believes life is ordained by God and every child is "carried…from heaven down through" the womb that carries and births aperson into the world.
But less than a month later, the man who inspired a nation at Whitney Houston's funeral followed up his sermon by hosting a fundraiser in his home to raise campaign funds for the most resolutely pro-abortion politician to ever hold office in any capacity. The lesson he preached to the nation was lost on him.
Incessantly trawling for campaign cash, President Obama flew to Atlanta on a whirlwind money-grab for three of six fundraisers, one of which was held in the elegant home of the same Tyler Perry who, a few weeks earlier when speaking about Whitney Houston, quoted from the book of Romans, saying, "For I am convinced that neither death nor life, neither angels nor demons, neither the present nor the future, nor any powers, neither height nor depth, nor anything else in all creation, will be able to separate us from the love of God that is in Christ Jesus our Lord."
Ironically, one verse prior to the Scripture Perry quoted in his stirring oratory at Houston's God and Scripture-filled funeral, Paul the Apostle speaks of those who "face death all day long…[and are] considered as sheep to be slaughtered."
Yes, Mr. Perry, there is an ongoing government-sanctioned slaughter of the innocent that is taking place in America today, one approved of and heartily promoted by the president you endorse, a president who frequently reaffirms his unshakable commitment to abortion while also publicly avowing to have deep Christian faith.
Tyler Perry once said, "It doesn't matter if a million people tell you what you can't do, or if ten million tell you no. If you get one yes from God that's all you need."
Unless, of course, after God's "Yes" ordains your life into existence your mother chooses to say "No." Tyler Perry can share God-centered eulogies all day long, but by supporting Barack Obama for president, what he's saying is that when it comes to the rights of the unborn, even God's "Yes" must submit to choice.