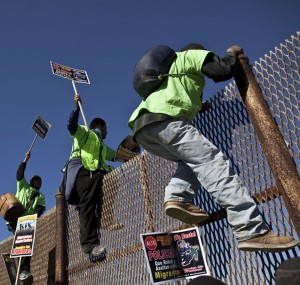 Originally posted at American Thinker.
In Shakespeare's iconic love story Romeo and Juliet, Romeo's friend Mercutio died after becoming an innocent victim of the feud between the Montague and Capulet families. Dying from a fatal wound, Mercutio declared, "I am hurt. A plague o' both your houses!"
After enduring five years of Barack Obama and after watching and waiting in vain for the Republican Party to save America from ending up like Mercutio, "A plague o' both your houses!" is an increasingly common sentiment for the two warring political parties presently holding the rest of America captive.
As Democrats offer up the nation as ransom in order to establish a lasting political power base and Republicans clumsily fumble around attempting to be all things to all people, the nation is being invaded by DREAMers whose vision for America is quite different from the one that Americans had hoped to pass on to future generations.
And as Eric Cantor, John Boehner, and Marco Rubio pass Barack Obama the bullets he needs to load the illegal immigration gun he's got pressed to America's temple, a 13-year-old girl was being gang-raped by a band of illegal aliens in Texas.  That's right, 10 or more illegal aliens — part of the millions of illegals Obama and a battalion of immigration reformers want to make citizens of this once-great nation — cheered each other on while filming a little girl being repeatedly raped by a gang of criminals who had no right to be in this country in the first place.
According to police, the girl ran away from a group home and was picked up by three Latino men and driven to an apartment complex in Austin, Texas, where for hours she was raped by brutes who applauded themselves and each other while taking turns violating her and filming the offense for posterity using cell phones, possibly even "Obama phones."
Two of the beasts that participated in the further psychological destruction of an already disturbed youngster, Juan Lozano Ortega, 25, and Edgar Gerardo Guzman Perez, 26, were picked up and have been charged with aggravated sexual assault of a child.
There is a simple lesson here:  When standards for criminality are relaxed for one reason or another, the fear of recrimination for other criminal acts is further decreased, putting everyone in danger.  The problem is that there are 11-30 million illegals in this country, and we don't really know for sure who these people are, what they are capable of, or what type of unacceptable behavior they believe to be acceptable.
Ortega and Perez are both currently being held in the Travis County Jail on immigration detainers, which are defined as "a tool used by ICE and other Department of Homeland Security (DHS) officials to identify potentially deportable individuals who are housed in jails or prisons nationwide."
The fact all illegal aliens, including the millions deemed harmless and hardworking, are considered merely "potentially deportable" is precisely the reason this young girl was ravaged by this roving pack of fiends.
Not to worry, though — thus far the other rapists are probably somewhere in Texas peacefully DREAM-acting, occupying limited seating in an Emergency Room, or busily doing all those jobs Americans won't do.
As Barack Obama refuses to take no-to-amnesty for an answer, on one end of the illegal immigration spectrum food stamp recipients are sending groceries to family in foreign countries.  On the other end, children are being gang-raped and American citizens murdered.  Meanwhile, Republicans are talking about extending "basic fairness" to individuals who are in this country illegally.
America is also being transported to an unrecognizable place, and the nation is being pillaged by a band of politicians who, in a quest for power, are participating in a gang-rape of America for their own selfish gratification.
In the process, amnesty-obsessed Democrats will continue to force 30 million illegals down America's throat, some of whom, in addition to raping the system, are more than comfortable raping our daughters.  Meanwhile, the anemic Republican Party's calls for compassion and promises of "common sense solutions" deliver neither compassion nor solutions to citizens being victimized by politicians who are basically aiding and abetting a massive invasion.
In Austin, in the early morning hours after the little girl was abused and used up by a posse of hoodlums who satiated themselves at her expense, she was driven by men (perhaps without driver's licenses?) to a nearby neighborhood and told to "find somewhere to go."  Isn't that ironic, trespassers who shouldn't be in this country, let alone this girl's neighborhood, after raping her told her to "find somewhere to go?"
Subsequently she made her way to a nearby hospital and submitted to an examination which, based on her injuries, corroborated her story. As politicians in Washington were busy advancing America's desecration, scarred and traumatized with her life changed forever, the girl ultimately made it home.
Sadly, when America attempts to crawl home there will be no recognizable home to return to.  The harsh truth is that if the Republicans and Democrats have their way, America, just like the tragic Mercutio who said, "Ask for me tomorrow, and you shall find me a grave man," will be relegated to history's graveyard.  So a dying Shakespearean character's final words, "[a] plague o' both your houses!" is a fitting wish to be visited on the two political houses cheering each other on during the ongoing rape of America.