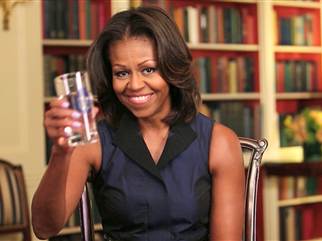 Originally posted at American Thinker. blog
Fresh off the slopes of Aspen and obviously unaware that her husband had just recently dissed students seeking a degree in art history and spoken in a drought-stricken area of the country, Michelle Obama headed east to New York City to attend an exhibition at Manhattan's New Museum, which hosted an art show featuring street art that promotes drinking water.
The first lady spent the afternoon greeting fawning middle school kids who were there for the exhibit, which was produced by the 'drink water' foundation WAT-AHH titled "Taking Back the Streets."
The foundation WAT-AHH and 14 artists collaborated in the effort. The art and murals in the show glorified what humans used to do all the time without coercion. The goal of the art show is to lessen the unhealthy messages kids are often barraged with and get them to drink water. Whether or not the H2O drinkers were instructed to check the New York City Department of Health Boil Water advisories is not known.
Nonetheless, Mrs. Obama said to the 8th graders, "This is so exciting and you are all so cool. You guys are gonna make a huge, huge impact on the health of our nation." Not to mention contributing to the success of the Big Apple's Posh Stow and Go "clean, safe and soundproof" bathrooms that charge $8 a pop.
After the watery museum outing and before making the trip complete by appearing on The Tonight Show with BFF Jimmy Fallon, Mrs. Obama scooted over to a DNC fundraiser at the home of Obama bundler and company reinvigorator Maneesh Goyal.
Jimmy Fallon is a huge Obama supporter, and more importantly a preferred dance partner of Mrs. Obama. Fallon took over just last week for Jay Leno, the old guy from California who often made Barack Obama the butt of jokes when no one else dared, and what do you know — Michelle shows up this week.
Oddly, it seems every time Mrs. Obama appears on a show that Jimmy Fallon hosts he feels compelled to greet her in drag. Now, either Jimmy knows Michelle Obama feels more comfortable around women, or he just prefers dressing like Priscilla, Queen of the Desert.
On Fallon's fourth night as host, for the first lady's appearance the show included a valley-girl-type talk show segment featuring Jimmy and Will Ferrell (aka Anchorman Ron Burgundy). Ferrell showed up in pigtails as Stacy, and Michelle Obama showed up as herself.
The talk show was entitled "ew!" with a little "e." The first lady was the special guest of the strangely-accented Fallon and co-host Will "Stacy" Ferrell in a basement rec room. Fallon introduced "herself," saying, "I'm Sara, and if you're wondering, that's S-A-R-A, with no H because Hs are ew!"
In his best valley-girl accent, 'Sara' asked Shelley, "Have you been watching the Olympics?" "What's your favorite event?" Ferrell/Stacy asked.
"One of my favorites is figure skating," Michelle replied. "Me too!" Fallon squawked. Then the threesome engaged in a "triple hand hug," with Fallon on one side, Mrs. Obama on the other, and goofy Ferrell squeezed in the middle.
Shelley also told Stacy and Sara that kale chips are high in Omega-3 fatty ass-ids… sorry, fatty acids.
Later on in the show, Mrs. Obama made a grand congratulatory entrance in an elegant black sleeveless dress. The host and the first lady then discussed the Olympics, the unaffordable Affordable Care Act, and her children, Sasha and Malia.
Americans across the nation are suffering from cancelled health insurance, joblessness, and overall discouragement and malaise. Questions concerning the IRS, Benghazi, and the NSA go unanswered while Michelle talks about pressing issues like 16-year-old Malia not understanding why the daughter of the President of the United States can't get her driver's license and flit around Washington DC in "The Beast."
So there you have it — another day in the exhilarating, whirlwind life of first lady Michelle Obama. Thankfully, gone are the hum-drum days of Laura Bush who, rather than focusing on dire emergencies like increasing people's water consumption, picked mind-numbing things to do like advocate for literacy.
In comparison to Mrs. Obama, Mrs. Bush was such a downer. That dowdy Mrs. Bush was so depressing, what with her focus on advancing opportunities for young people and promoting human rights internationally. And, talk about "ew," why did Laura Bush insist on bringing up the "brutal oppression of women" in Afghanistan or the "cowardly and shameful act" of scarring school girls with acid?
It's so much more fun having a cool first lady who looks great in sleeveless dresses, hangs out with movie stars and rock stars, can do the Dougie like nobody's business, and, whenever she does a comedy skit on one show or another, reads cue cards like a pro right along with late night comics who love to do drag.