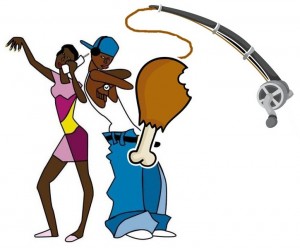 First lady Michelle Obama sent a TV message to black voters.
On TV One, a station whose motto is: "Where Black Life Unfolds," the first lady told "News One Daily" host  Roland Martin this:
And that's my message to voters, this isn't about Barack, it's not about a person on that ballot– its about you. And for most of the people we are talking to, a Democratic ticket is the clear ticket that we should be voting on, regardless of who said what or did this– that shouldn't even come into the equation.
Then Michelle Obama gave everyone who votes permission to eat, are you ready, fried chicken! I repeat, Michelle gave all black listeners dispensation to indulge in fried chicken as a reward for voting.
Roland asked the first lady: "So can we, if we go out to the polls, can we, say, we have a souls-to-polls on Sunday, can we do soul food after we vote?"
To which she responded:
Absolutely. I give everyone full permission to eat some fried chicken after they vote. Only after, if you haven't voted… You make a good point. Because I am, I do talk about health. But I think that a good victory for Democrats on Tuesday, you know, should be rewarded with some fried chicken.
In the spirit of racist Michelle Obama pigeonholing all black people and using insulting stereotypical incentives to try to lure blacks to the polls to vote Democrat, the first lady should have just gone all the way with her 'Get Out the Vote' message and used every imaginable offensive stereotype by saying the following:
Hey all you lazy-ass, welfare-gettin' mofos! You know who you are; you're late all the time, so the first lady is telling all the baby Mamas and baby Daddies just once: "You have until 8:00 pm to get your lazy butts to the polls."

Put down your weed and your Newports, get the 30 other 'hood rats you live with to come too, and get it in gear.

And don't even think about jacking a car to get there, there will be none of that. Tell all the basketball players in the 'hood to carry you if you're too tired or too fat to walk.

I'm Michelle Obama, and believe me, I'm well aware some of you can't read the ballot, and that is a challenge for sure. So, do you at least know what the letter "D" looks like? Try hard to remember: "D" was the only letter on your report card until 6th grade when y'all dropped out of school.

So look for the "D" and just vote "D" all the way across, because if you do, "Yes We Can" Barack has a big surprise: Free fried chicken, watermelon, and a Trayvon Martin hoodie for all black voters.

This is important, because if you don't vote, all those nasty white people are going to come down hard on your welfare benefits. White people are gonna come to the ghetto where y'all live and arrest all the drug dealers and cart away all the free stuff Barack gave you, like those free Obama phones.

Do you want that to happen?

You know that I know that you're not the most trustworthy bunch, that's a given. But if you're tempted to stay home, stop and think about the fried chicken, the watermelon and the hoodies!

When you get to the polling place, try not to be too loud, too rude, or too aggressive. Leave that to the New Black Panthers. And please do not tell too many white people jokes while standing in line.

Watch my lips: Go into the booth, vote "D," collect your chicken, and then get the hell out of there!

Don't worry about what candidate did and said what; you're black and blacks vote "D!" That's all you need to know.

Do it for me and Barack because you are our peeps! And keep your eye on that fried chicken.

Special Message to New Black Panthers: If white people try to vote and you don't have a billy club, just beat 'em back with a drum stick.
If Michelle's idea works, and blacks show up at the polls, maybe for the next election Rudy Giuliani can help get out the Italian vote by promising the paisanos some salami and provolone.