Originally posted at Clash Daily
A few days after the CDC admitted that the "overseas" imported measles epidemic that is creeping across America with the same determination as Enterovirus D-68, which killed 15 and paralyzed and sickened hundreds, like grease rising to the top of chicken soup America-hating Michael Moore has reared his obnoxious head again. This time it's not to slam American heroes; it's to give travel advice to illegal aliens hoping to sneak across the border unimpeded into Arizona.
After watching a colorful Katy Perry, dressed like a flame-thrower riding a red-eyed tiger that looked like a demonic Transformer, sing "I Kissed a Girl" to a confused Lenny Kravitz, having what appeared to be fireworks shoot out her butt, and riding a shooting star rivaled only by Gwyneth Paltrow's genital steam-cleaning apparatus, Michael, aka Jabba the Hutt, seized the opportunity to criticize border patrol agents and endorse illegal immigration.
Here's what the bloated buffoon said this time: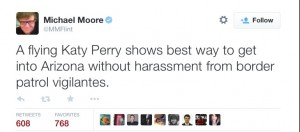 So apparently in @MMFlint's opinion, border patrol agents are "vigilantes" that "harass" innocent illegals who, if they could only be flown directly into Arizona, could bypass the whole ordeal.
First Michael Moore took to Twitter and accused military snipers of being cowardly murderers on a joy ride, implying that a Navy SEAL's idea of good time is to shoot innocent people in the back. Then he accused Clint "Make My Day" Eastwood of threatening to kill his sorry ass.
Now, sitting somewhere in one of his nine homes, praising Marxism and thinking up incendiary things to say, Michael, who clearly despises America and the military, makes the snide suggestion that Third-World types should skip sneaking into Arizona and instead bypass border security by being airlifted.
As outrageous as Michael's idea may sound, while that other illegal-loving liberal, Barack Obama, is in charge, flying in illegal aliens is a maneuver that is not out of the range of possibility.
Barack is of the same mindset and has already proposed giving refugee status to certain groups.
Obama's genius idea is that, rather than have criminal interlopers endure the dangerous trek across the border trying to avoid the coyotes and the human smugglers, why not send cargo planes to pick up what he calls "refugees?"
Using refugee status as a cover would ensure that individuals with MDR-TB, Enterovirus D-68, measles, scabies and other Third World goodies to spread around, as well as culturally diverse MS-13 gang members, drug addicts, child molesters, rapists, and an occasional Islamic terrorist thrown into the mix can be dropped off all across America.
So, as far as liberal insanity goes, Michael the Hutt is on the same page as the president, who wants to seed American neighborhoods and classrooms with every possible type of disease and danger he can dredge up and dump off.
So with that in mind, not that Katy Perry's steam-powered, Gwyneth Paltrow-inspired flying machine could lift that large lump of lard, but if it could, maybe it could pick up Michael Moore by the seat of his stained boxer shorts and fly him directly to Cuba and drop him off.
And maybe, while the Super Bowl half-time flying machine is at it, how about doing America a solid and making a double-duty stop at the White House to pick up another pusillanimous passenger for the trip?