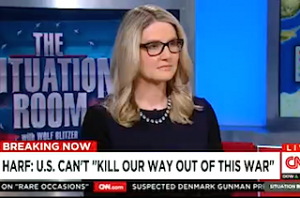 Originally posted at Clash Daily
Just when Americans thought it couldn't get any more absurd, Marie Harf of the US State Department, the girl with the over-sized eyeglasses who plays tag-team with Jen Psaki, the redhead who often looks like a deer caught in the headlights, proved the sane and logical wrong.
Chatting with Chris Matthews, Marie enlightened the MSNBC host/Obama shill as to the "root causes" of boorish ISIS warriors beheading, burying alive, and burning their way toward Europe and the US via the Middle East.
Marie informed a rapt Chris that the Obama administration disagrees with the rational opinion that barbarians are best snuffed out. Intermittently adjusting her spectacles, Harf informed the cable news host that "We cannot win this war by killing [ISIS]."
Based on that statement, one can't help but wonder whether Marie and her boss Barry lament the US winning the Second World War by A-bombing Hiroshima and Nagasaki.
So does this mean that godless evolutionists no longer believe in survival of the fittest?
Or maybe "Kill or be killed" no longer applies to situations where murderous wolves are planning to rip out the jugular of any human being who identifies with the God of Abraham, Isaac and Jacob or calls him/herself a "Person of the Cross".
According to Harf, "We cannot kill our way out of this war," because like the late Michael Brown, Ismaayil Brinsley, and even Trayvon Martin have proven, unjust "root causes" outside the control of the oppressed can lead certain individuals to act like barbarians.
The "Root causes" theory must be what drives Obama to silently approve of the pillaging and mayhem that follow the killing of a police officer or why, in the case of ISIS, liberals absolutely refuse to condemn their horrific mass murders.
Based on Marie Harf's comments on Hardball, Obama and Co. must have attended a colloquium to discuss the ISIS problem and determined at an academic-like roundtable discussion that the primary root cause for the orgy of genocidal jihad occurring in Iraq and Syria is lack of opportunity and jobs.
So wait – ISIS saws off heads, burns and buries people alive, and Marie Harf of the US State Department suggests a change of heart would occur if radical Islamists, intent on ushering in the 12th imam, were enrolled in a jobs program?
That's when Chris got a tingle up his leg – but not the kind he got from Obama – and rightly pointed out: "If I were ISIS, I wouldn't be afraid right now… They can keep finding places where they can hold executions … And nothing we do right now seems to be directed at stopping this."
Then Chris asked the lovely and always vivacious Marie, "Are we killing enough of them?"
Sounding very much like Neville Chamberlain, whose mantra was "We should seek by all means in our power to avoid war, by analyzing possible causes, by trying to remove them, by discussion in a spirit of collaboration and good will," Marie replied, "We cannot kill our way out of this war. We need in the medium to longer term to go after the root causes that lead people to join these groups, whether it's lack of opportunity for jobs, whether […]"
In a brief moment of lucidity, Matthews shot back:
We're not going to be able to stop that in our lifetime or fifty lifetimes. There's always going to be poor people. There's always going to be poor Muslims, and as long as there are poor Muslims, the trumpet's blowing and they'll join. We can't stop that, can we?
Apparently, according to Marie, yes, yes we can!
Ms. Harf told Chris that, while the people of the cross's blood spills into the sand and the sea, the Obama administration, which has weakened the American economy and decimated the US job market, has plans to "work with countries around the world to help improve their governance…[and]… help them build their economies so they can have job opportunities for these people [.]"
So here we are, folks. European Jews are being threatened, spat upon, and beckoned by Bibi Netanyahu to run for their lives into the Ark called Israel while Christians are being decapitated in broad daylight while calling upon the name of Jesus. Meanwhile, a blonde bimbo Obama administration spokes-babe suggests that enrolling ISIS in a jobs program is the answer to genocidal jihad.
If that's the case, maybe the president should first offer ISIS sanctuary in a Muslim-friendly nation called America. In fact, with the promise of immediate amnesty, he can round up ISIS and airlift them on US cargo planes. Obama can quell their fears by giving the devout refugees a toll-free number to report anyone subjecting them to religious bigotry or threatening the men in the black Ninja outfits with deportation.
Then the president can suggest hiring career-minded ISIS trainees for occupations such as butchers, bakers, and gravediggers. Better yet, how about giving the ISIS imports a "shovel ready" job at the IRS tracking down uncooperative, opinionated conservatives and then granting the new hires permission to deal with the insubordinates in any way they see fit?
If those efforts fail to quench the new ISIS immigrants' thirst for blood, to soothe the savage beasts there are always food stamps, free health care, and a seat of honor next to Al Sharpton at Obama's next State of the Union address.