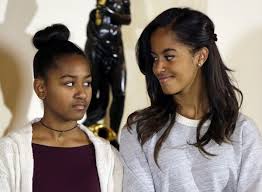 Originally posted at American Thinker.
The highly controversial Valentine's Day ski trip with Mama Obama to Aspen must have been a real doozy, because Sasha and Malia, who were slated to travel to Japan with the FLOTUS for Spring Break, decided to stay home.
Last year Michelle justified another high-priced spring junket to the Far East by announcing that it was "very rare" that she and her daughters had the "opportunity to travel outside of the United States." At the time, Shelley said, "It is no accident that one of our first trips as a family is here to China," whatever that means.
Anyway, with Granny Marian Shields Robinson in tow, the girl-power travelers graced China with their presence. They gawked at panda bears, visited the Peking opera, and somehow managed to run up an impressive $222K hotel tab for a two-day stay.
Then, back in February, Japanese news organization Asahi Shimbun reported that Michelle, Malia, and Sasha would be traveling to Asia again in March, this time for sushi and stuff.
The girls were to accompany Mom to Japan, but instead of her two daughters, the people in Michelle's entourage included a seemingly anorexic ambassador to Japan, Caroline Kennedy, Caroline's 22-year-old Kennedyesque son "Jack" Schlossberg, and the fetching YouTube makeup artist Michelle Phan.
Couple Sasha's and Malia's absence with the media's deafening silence surrounding the girls' decision to be no-shows, and one can't help but wonder what can be gleaned from the first daughters' decision to decline Mom's Asian Spring Fling proposition.
For starters, based on the contemptuous body language and obvious eye-rolls unique to teenagers, it was clear that when Obama pardoned "Cheese" the National Thanksgiving turkey, Sasha and Malia had clearly been coerced into a perfunctory photo op and would rather have been anywhere else.
Judging by their disdainful facial expressions, it may have been that the girls realized, among other things, that having one national turkey pardoning another national turkey was pretty ironic, to say the least. In fact, that paradoxical scene might explain the first daughters' refusal to smile for the camera and say "cheese."
All turkeys aside, what transpired between February and March is anyone's guess, but at this juncture what we do know is that those youthful sneers were nowhere to be seen when Mom tripped and almost fell, nearly crushing the diminutive Japanese Emperor Akihito. Thanks to their decision to sit this one out, Sasha and Malia also spared themselves the humiliation of having to smile while Mom played a Japanese version of "Babalu" on the traditional Taiko drums.
For lack of a better explanation, what Sasha's and Malia's absence may indicate is that Barry and Michelle cannot get their own children to obey, which may be why the FL/POTUS spend most of their time bossing Americans around and treating grown adults like adolescents.
No, I mean really. From the looks of things, unlike Caroline Kennedy, it appears that Michelle can't get her children to do what she wants them to do, which may explain why she takes out her frustration on 300 million strangers by issuing unreasonable decrees ranging from what we should eat to how much our children should weigh.
Sasha and Malia refuse to go to Asia, and the next thing you know, Michelle endeavors to re-establish a sense of authority by mandating that American children who aren't hers be weighed like piglets at government-funded daycare centers.
Question for Michelle: if government provision dictates weighing those being sustained with tax dollars, then on behalf of the common good, shouldn't certain occupants of the White House also be regularly hoisted onto an adult-sized scale for public weigh-ins?
Either way, sometime between February and March, Mom must have reminded Sasha and Malia about the Asia trip, to which the girls rolled their eyes and said, "Forget it. We're not going." Mamma's reply: "You're going! End of discussion."
Following that pronouncement, there must have been a lot of sulking, stomping around the executive quarters, multitudinous angry tweets to their Sidwell Friends friends, and, to drown out all the ranting and raving about disobedience and public duty, loud anti-cop Pro Era gangsta rap music blaring away on iPhone ear buds.
For lack of a better explanation, Sasha and Malia must have told Ma and Pa to stick it, and, in this particular case, the Obama-girl-power that Mom's always cheering about actually won the day.
And although it's purely speculation, could it be that because the first daughters cross their arms and insolently roll their eyes, Barry and Michelle, having lost all control at home, have turned their attention to bossing around the rest of America?
That may be. But in the end, although Sasha and Malia may very well be unruly teens, Americans could learn a thing or two from these kids about how to respond when Barry and Michelle insist on taking America on yet another costly trip we'd rather not take.