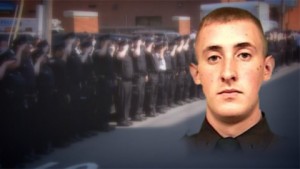 Originally posted at CLASH Daily.
Following the grand jury's decision not to indict Darrin Wilson in the Michael Brown case, in Bedford-Stuyvesant Brooklyn, right before Christmas, NYPD officers Rafael Ramos and Wenjian Liu were shot execution-style by a black Muslim convert named Ismaaiyl Abdullah Brinsley, who'd promised he'd put "wings on pigs."
Now, less than six months later, race-baiters, hungry for the type of validation they feel they were denied in Ferguson, Missouri, are at it again, ginning up rioting, looting, and anger toward law enforcement, accusing cops of being abusive toward black men.
Regrettably, that claim seems to once again be empowering "thugs" to retaliate against police whose job entails controlling the volatile and unpredictable.
After ex-con Freddie Gray, a drug addict/pusher with a long rap sheet died of a severed spinal cord after being in police custody, Al Sharpton's "No Justice No Peace" posse, Baltimore Mayor Stephanie Rawlings-Blake and Baltimore's fiery chief prosecutor Marilyn Mosby, promised to deliver long-overdue justice to the same youths who scorched, ransacked and plundered Baltimore.
To accomplish that goal and to teach America's police that deference toward criminals based on skin color is a wise choice, six police officers – two of whom are black males and one of whom is a black female Sergeant – are about to be offered up on the altar of political correctness as sacrificial lambs.
Meanwhile, in Baltimore, as concrete blocks were being tossed at police in riot gear and minority businesses set on fire by those without jobs, back in Queens Village, New York, 25-year-old NYPD officer Brian Moore, a Long Island kid from a family of New York City police officers, didn't realize it, but his life was about to end.
Following in his retired-cop dad Raymond's footsteps, Moore was an undercover cop on the force for just five short years and the fifth NYPD police officer to be shot in five months.
While Al Sharpton was busy playing bodyguard to Mayor Rawlings-Blake, Brian Moore, on duty with Officer Erik Jansen in an unmarked police car, was shot in the head by Demetrius Blackwell, a 35-year-old black man who probably has as much love for cops as most of the rioters in Baltimore.
Moore noticed a suspicious-looking Blackwell on the street, pulled up behind the man who has been in and out of jail for the past two decades and merely asked, "Do you have something in your waist?''
The young police officer's intuition was accurate, because in response to being questioned Demetrius said "Yeah, I got something," pulled a stolen Taurus Model 85 revolver from his waistband and opened fire on the two officers.
Unlike Ramos and Liu, who both died, this time only Moore was injured. After extensive surgery, an induced coma, being on life support for two days, and suffering a severe brain bleed, Brian Moore's blood pressure dropped and he died.
Adding to the drama, at the time of Moore's death, President Obama, a man who is certainly no stranger to racial controversy, was in New York City. Obama was in the Big Apple to block traffic, promote his "My Brother's Keeper Alliance" initiative at Lehman College in the Bronx, attend a couple of Democrat fundraisers, and yuck it up with David Letterman.
As a wall of blue saluted the police vehicle slowly leaving Jamaica Hospital with the body of Brian Moore onboard, Obama had this to say:
"New York's finest lost one of its own today, Brian Moore… And the family and fellow officers he joined in the NYPD and across the country deserve our gratitude and prayers not just today but every day."
Predictably, the president missed an opportunity to bring balance to an out-of-balance racial situation by mentioning that ex-con "brother" Blackwell, who has a long history of jail time and violence, was the one who did the abusing this time, not the cops.
The truth is that the president's perfunctory acknowledgment of Moore's death does not make up for his numerous "police-acted-stupidly" remarks over the years, like the time in 2014 when he pointed out to disgruntled black men that "the criminal justice system doesn't treat people of all races equally."
Maybe Obama's "My Brother's Keeper" initiative should stop with all the excuse-making for "brothers" who sell drugs, loot businesses, or worse yet, shoot guns with bullets that tear apart the brain stems of young police officers.
With that in mind, the last thing two young NYPD cops probably wanted was to become famous for is inciting racial unrest in New York City. That's why one can't help but wonder if perhaps, in an effort to be non-threatening to "Hell-Raiser", aka Demetrius Blackwell, when Moore and Jansen encountered him fidgeting with his waistband, the two cops hesitated to draw their own weapons.
And so as Stephanie Rawlings-Blake, Marilyn Mosby, Al Sharpton, and frequent David Letterman guest Barack Obama promise justice for the likes of Freddie Gray, instead of becoming the next Darrin Wilson, Brian Moore, will be laid to rest.
In the end, whether Barack Obama wants to admit it or not, NYPD Officer Brian Moore is just as much a victim of politicians who grab for power by inciting animosity among those who, inspired by Obama/Sharpton bombast, feel vindicated murdering cops, as he is a thug with a stolen gun.