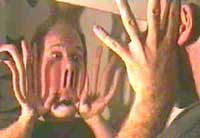 I've never been one for carnivals. Although, for some they hold  the promise of escape and amusement.  But for me, they just never delivered. It was puzzling as to why at first notice that the carnival was in town people hastened to the campgrounds, scuttling through the metal gates like children being thrown free gumballs from a passing stranger.
What is a carnival anyway? It's a place that seems like fun, lots of smiling people are there,  partaking of what I would consider to be  substandard festivities.  However, in a short amount of time you realize it is  a place where you waste time,  throw away money and do so in response to the prospective of gaining something valuable by spending very little.
A carnival is a place where a carnival barker convinces you to join in by repeating over and over that you can win at the game of chance. So, in response, you spend a large portion of the change in your pocket to find out that the prize you've won isn't worth 1/16th of what you spent.  No one questions why the challenge is always orchestrated by organizers who purposely make it hard to hit the mark. The people who set up the games encourage full faith in the hope of success and are adept at convincing that the games are fair.  Carnival organizers are the ones guilty of getting more of your money, while you walk away with nothing.
At a carnival you are  bombarded by a sensual barrage of sight, sound and smell.  As people walk in time, the calliope loudly plays Julius Fucik 's Entry of the Gladiators. The music plays incessantly hypnotizing revelers into believing they are having fun. I have persistently wondered why I was always assessing the fact that for me,  a carnival was never fun.
A carnival atmosphere is frustrating–lots of frenetic commotion but nothing ever seems to be accomplished. For example, you spend money to purchase a ticket for a ride, which has no destination. Riders are spun around only to be returned to where the started. Filled with anticipation, while being strapped in– as the ride slows to a stop there is a hush of realization that the ride didn't live up to expectations or worse yet riders disembark  nauseous and  sick.
The supposed "big tent" that we all have been presently beckoned to is  similar. The only difference in the massive carnival is that this one is replete with political clowns. In the petting zoo the only animals are ancient pachyderms and ornery donkey's milling around in secure, enclosed areas where only they are welcome. Citizens can't get close enough to touch them for fear of a stampede or being mule kicked. There is  an elaborate side show, guaranteed to entertain but always falling short. The ride of choice is the Tilt-A-Whirl where you are pushed from right-to-left and all around with the result being dizziness and confusion.
At this carnival Americans toss more and more money into sponsored abysses, which deliver zero return on the investment. We're promised a prize worth more than what we spent. In America who could resist a stuffed snake for a quarter…why it's practically "free?" Intrinsically, America knows  that the promised prizes  aren't worth what we've spent, but we continue to smile and move onto the next booth. Looking  up close at the much anticipated trophy, though oftentimes over sized and colorful,  it is of poor very quality and usually has a rip in the side where the stuffing is oozing out. Upon entering the House of Mirrors, everything is distorted. Nothing is really as it seems…what is being projected is untrue and everything around is indistinct, vague and unidentifiable.
The food is greasy and  smells like a combination of sugar, sweat, dirt and sorrow. There is only so much fluffy, sticky, cotton candy you can eat before getting sick. Yet, there seems to be a throng stampeding the gate…trying to enter the fun zone, to be part of the crowd, escape from reality, have theperspective changed, find hope in false promises and belong to the larger collective.
Unfortunately, this carnival has something that we thought was banned many years ago. It sports a large, active, vibrant freak show with a very, distinguished but disfigured star. The head barker warns the gathering crowd, reminding them of the sideshow freak's code of honor "Offend one-and you offend them all!" As the curious and inquisitive crowd gathers closer to the stage they scream in horror and alarm as they see something that they think they may recognize looking away, but can't help looking back. What remains is remnant of what was once a beautiful, strong woman, who has become deformed, hideous and a mere shadow of what they remember her to be. The carnival barker calls to them drawing them even closer to the stage, telling them, "Good citizens, she was once a strong and vibrant woman that held the promise of life and freedom…she was an eagless of great stature. How she became like this no one is sure, some say her safety was compromised and her values abandoned. Some say her children abused and forsook her for another way of life. How she got this way will one day be revealed…until then there she is…!"
Happy inauguration day Mr. President the people of America just love the carnival.