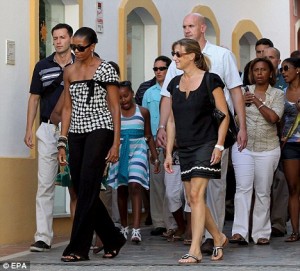 Originally posted at American Thinker. blog
Greeted by a large red, white and blue banner, Michelle Obama landed safely in España. The First Lady and an entourage including daughter Sasha and three dozen of Michelle's closest and most intimate friends were warmly welcomed on the Iberian Peninsula for "a private, mother-daughter trip."
Notwithstanding the 5-star rating, the Villa Padierna is a peculiar choice for a mother/daughter moment as it is "often associated with reality TV and gangsters."  Regardless, Michelle should feel right at home in a "millionaire's playground," internationally recognized as one of the world's top 30 hotels.
Spain has been gracious toward the private mother-daughter-plus-40-people group, despite the U.S. State Department advising travelers that "racist prejudices could lead to the arrest of Afro-Americans who travel to Spain."  If taken on face value it wouldn't have posed a problem.  Michelle sports a bob, not an "afro," thus the First Lady was never in danger of being targeted for racial profiling.
The controversial warning was issued because "two US government employees, both of them African-American" were detained "for no apparent reason" by Spanish police last year. The State Department failed to disclose whether Charlie Rangel and Maxine Waters were vacationing, albeit separately, in Marbella around the time of the incident.
Just prior to AF2 touching down at the Malaga Airport, the U.S. State Department pulled the Spanish racial-profiling warning.  It was quick thinking that spared Obama the heartache of having his wife possibly held over in Spain for an extended period of time.
The Spaniards have been so accommodating that "250 Spanish officers and military personal…[including]…police divers, bomb disposal experts and dog handlers" will be protecting Obama family and friends.  The Spanish security force will join 70 Secret Service agents, some of whom will be dressed in street clothes, mingling with sightseers.
"Mrs. Obama and her daughter are also expected to visit Spain's King Juan Carlos and Queen Sofia at their summer palace on the island of Majorca," which would likely be considered official business.
Either way, this private mother-daughter getaway stands to put a big dent in the President's Martha's Vineyard vacation budget.  Lucky for Barry the First Lady decided to "officially" visit the King and Queen.  A ten minute courtesy call ensures American taxpayers foot the bill.
Michelle's four-day jaunt includes reserving 60 rooms in a 129-room hotel whose accommodations start at $333.00 and go up to $6502.00 per night. If Shelley decides to spare no expense to entertain nine year-old Sasha, the Villa Padierna hotel bill could be upwards of $1 million dollars or more.
Yet exorbitant expenditures are justified for an American dignitary of Michelle Obama's stature, especially if palace-dwellers Juan and Sofia decide to drop by and pay Michelle and friends a reciprocal visit.
And so it goes. During the summer of 2010, while Americans sweated their next paycheck, Michelle and Sasha bonded on a multimillion-dollar trip to Spain. As for the State Department, rather than ditch the travel advisory sign maybe the government could save tax dollars for Michelle's next expedition by crossing out the words "Afro-Americans" and "Spain" and penciling in "Mexicans" and "Arizona."