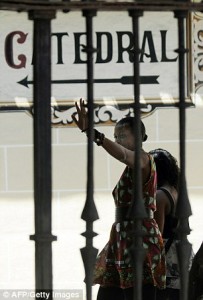 Originally posted at American Thinker. blog
First Lady Michelle Obama exhibits zero guilt when shutting down cities for personal vacations. People being inconvenienced, restricted or disappointed doesn't impact Mrs. Obama in the least.  The perpetual vacationer is more than able to push back the unwashed masses in order to ensure ample space exists between presidential sovereigns and peasant-like peons.
Reminiscent of Bar Harbor, while vacationing in Spain, "Spanish police cleared off a stretch of beach for U.S. first lady Michelle Obama and daughter Sasha to relax by the Mediterranean …after a busy day of sightseeing."
Them-and-us stanchions were created with palm trees, which were used "to mark off the boundaries of a 100-meter (100-yard) expanse for the American delegation." Michelle rested comfortably inside a "canvas hut by the shore" obscured from view on three sides like a monarch from the Middle Ages.  An unperturbed Shelley relaxed while little Sasha "splashed in the sea" with a security guard as cordoned off "onlookers gawked.
During the Spanish excursion, i.e. "private-citizen" outing, the First Lady toured the Alhambra Palace in Granada. America's imperial First Lady took in "the exquisite reddish citadel … the seat of Moorish rule in Spain – and the city's cathedral, and also watched a flamenco show in a hillside cave turned into a tavern."
According to observers, Michelle "clapped along with the booming chords of the guitarists and rapid-fire, clicking heels of the dancers." She did it well. "This woman has rhythm," said Juan Andres Maya, leader of the flamenco troupe.
Had the U.S. State Department failed to pull the Spanish-are-racists warnings prior to Michelle's arrival, Maya's comment about "rhythm" might be interpreted as racist in nature.
Regardless of the city, state, or international location the Obamas visit, the family always manages to track down ice cream. Before visiting the Granada cathedral, Spanish media outlets reported that Michelle enjoyed butterfat and sugar-infused chocolate creamery and, although "dessert is not a right," Mom did allow Sasha to indulge in melon and raspberry.
Back in the old US of A, unemployed Americans ate stale bread and bologna for dinner. However, "Sasha ate pasta, and her mother and the rest of the U.S. delegation had tapas," at $66 dollars per person. The dinner included elegant "sea bass tartare, strawberry gazpacho and sardines, followed by a main course of lobster with seaweed risotto."
According to the White House, details of the Spanish visit were not supposed to be disclosed. However, the only thing "classified" about the European expedition is the bathing suit Mrs. Obama wore while lying about inside a canvas beach hut.
The Spanish showered the Obama women with gifts, "including a typical Spanish fan, a traditional veil known as a mantilla, books on the cities they have visited, and a copious assortment of local food including cheese, olives, wine and even two legs of salt-cured Spanish ham."
Local Socialist official Salvador Pendon grumbled that "Mrs. Obama is here on a private rather than official visit, it is not right for Spain to deluge her with so many goodies." Surprisingly, the normally socialist-leaning Mrs. Obama neither shared nor declined to accept the treasure trove of "goodies."
Socialist Pendon said, "It is too much stuff. And all these gifts mean just one thing: the givers are trying to draw attention to themselves."
Too much stuff? Trying to draw attention to themselves? This is Michelle Obama we're talking about, sir!  Mrs. Obama is a woman who, while in Spain, commissioned a cream color coat from up-and-coming London designer Bunmi Olaye, to keep fashionably toasty during any future disruptive international photo-ops scheduled for chilly winter months.