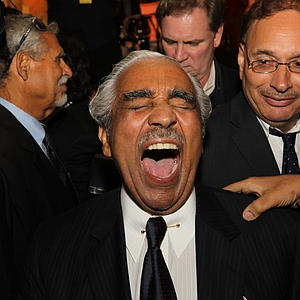 Originally posted at American Thinker. Blog
In Democrat circles an ethics charge is small potatoes.  Heck, Clinton was impeached for lying under oath and is still a hero.  So, what's a little tax evasion when compared to impeachment?
As they say in New York, "Ethics, schmethics as long as you're healthy," and "El senador" Charlie Rangel, who at 80 sports a full head of hair, is certainly healthy. Accused of 13 House ethics charges, Rangel, Chairman of the powerful House Ways and Means committee, vowed to fight and run again.
In the meantime, octogenarian Charlie was feted at a birthday party/fundraiser in the Grand Ballroom of the Plaza Hotel.  It was there that New York political luminaries "heap[ed] praise on the longtime Harlem legislator."
The theme for the night was highlighted by Governor David Patterson, who lauded the frequent Dominican Republic vacationer for self-sacrificial "dedication to public service."
In attendance were Attorney General Andrew Cuomo, Senators Chuck Schumer and Kirsten Gillibrand and the 9-11-mosque-friendly Mayor Mike Bloomberg.
In absentia was the esteemed Bill Clinton, as was Aretha Franklin.  The irreplaceable Queen of Soul was replaced by Dionne "I'll Say a Little Prayer for You" Warwick. Dionne led the crowd in "Happy Birthday" as Rangel's cake was wheeled out. No one knows for sure whether a nail file was baked inside the sugary concoction for Charlie to use, if need be.
As Warwick performed her smash hit "That's What Friends Are For," she sang "In good times, in bad times," while gazing into Charlie's eyes despite being distracted by those eyebrows.
Cuomo and Schumer praised Rangel for "devotion to the poor."  Andrew Cuomo maintained it was Charlie who "carried the banner for people long forgotten."  Rangel has the wherewithal to remember "forgotten people," but when it comes to reporting extra income, struggles with eighth-decade dementia.
The forgetful Rangel, encircled by faithful supporters, defined the occasion as "an experience I'll never, ever forget." A fellow standing outside the Plaza also had an unforgettable experience after calling Rangel a "crook." The normally classy former Mayor Dinkins, upon hearing the negative comment from the Rangel critic, flipped the guy the bird.
Democrats who declined the invitation showed support for Charlie by giving him something green to shake out of a birthday card. Take for instance "Carolyn Maloney — whose district borders Rangel's — didn't attend, but … wrote a $2,500 check."
Other than the Honorable finger-in-the-wind Mayor Dinkins, many partygoers dodged questions about Rangel's ethics woes.  The always "charitable" Senate Majority Leader Malcolm Smith of Queens, when asked whether he would be damaged by appearing with Rangel, said "My career's soaring high!"
Charlie's birthday celebration came a day after a defiant Rangel challenged House colleagues to expel him. In an incoherent speech that sounded like someone had been laying on a chaise lounge in the sun too long, Charlie the Chairman said "If I can't get my dignity back here, then fire your best shot in getting rid of me through expulsion."
At the get-together, Charlie was said to be "whooping it up," laughing uncontrollably and saying things like, "This damn sure ain't no funeral, is it?"
As the festivities concluded, an emotional Rangel told the audience, especially Dionne Warwick, "Please remember me in your prayers. It helps."
Rangel "left the stage dancing" after thanking the revelers, saying "I can't tell you how moving this has been."
With 800 tickets sold, Rangel's birthday stockpile included a colossal satchel of cash.  Ethics charges aside, it's anyone's guess, if money goes missing, whether forgetful Charlie Rangel will recall where it is.