News broke that a visibly unhappy Michelle Obama confessed to Frances' President Sarkozy's always-cheerful wife Carla Bruni that the "job" of being First Lady to a U.S. President and living in the White House is "hell." During a Spring visit to the U.S. Mrs. Sarkozy supposedly asked the  First Lady the controversial question to which Michelle allegedly responded  by saying, "Don't ask! It's hell. I can't stand it!"
The not so shocking revelation was made public in a book entitled: "Carla and the Ambitious Ones" written by journalists, Michael Darmon and Yves Derai supposedly in collaboration "Cheshire Cat" Carla.
The White House quickly jumped to Michelle's defense and vigorously clarified that, "The First Lady never said that." One would guess that if there were any spare lamps left after the Clinton's moved out there may have been a few being hurled around the presidential living quarters.  Straightening out her disheveled self, after raising holy "Hell," Michelle probably downshifted into damage control never thinking that the adorable Carla would betray a girlfriend's confidence.
A spokeswoman for First Lady, Catherine McCormick-Lelyveld, who likely wasn't privy to the confidential conversation when it took place maintains, "The First Lady never said that."
The White House spin controllers are denying Michelle told Carla Bruni "It's hell. I can't stand it." The First Lady should  clarify that what she actually said was, "It's swell, which is how we planned it." Maybe Sarkozy's wife misunderstood Michelle's comment because, when chatting with Carla, the First Lady was munching on French cherry clafoutis pastry.
Counsel came quickly from a husband who has been in tacky situations before.  The Presidential list of recommendations included: Calm down, smoke a few butts and more than anything, "Deny, deny, deny and deny some more and above all, stick to the story."
Emmanuel Lenain, a spokesman for the French Embassy to the US, said, "Mrs. Bruni-Sarkozy distances herself completely from the content of the book 'Carla and the Ambitious', which was not authorized and the authors alone are responsible for its contents. The words attributed to the First Lady of the United States were never said."
When asked whether Ms. Bruni collaborated on the book, Monsieur Lenain said, "I don't have all the details, I'll have to get back to you." Wait a second.  A French Embassy spokesperson vouched for Carla Bruni by saying France's First Lady was not responsible for the contents of a tell-all Carla-collaborated book?
The book alleges, "Rivalry between two women strained relations between the French and U.S.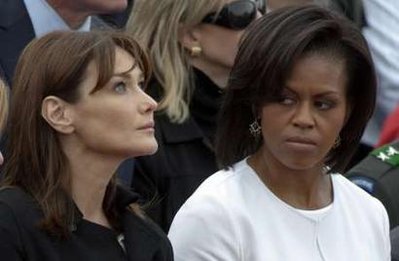 presidential  couples."  Based on the the sullen facial expression Michelle does little hide when in the company of Mrs. Woody Allen-movie star Sarkozy the enmity is obvious. Which explains why Carla may have divulged to journalists what Michelle blurted out in confidence this past March.
Could Michelle have said, "Don't ask! It's hell. I can't stand it!" Does the First Lady  Michelle Obama look like someone who's happy being wedded to the leader of the free world?
Since March, when the comment was supposedly made, Michelle has been on multitudinous vacations, tasting tours, European jaunts and jam-packed,  "private mother daughter trips."  Michelle can be found anywhere but home and oftentimes, when Mrs. Obama is in travel mode, it's without the groom of her youth, the debonair and always attentive Barry.
When-and-if  Michelle graces the homestead with her presence it's usually to attend a gala.  Michelle comforts herself with haute couture, thousand-dollar strappy shoes and star-studded guests.  The disgruntled Mrs. Obama spends so much time with Eva Longoria-Parker she's officially considered an honorary "Desperate Housewife."
Although Mrs. Obama and the White House remain in denial mode, if you put it all together the juicy tidbits add up to TRUTH.  Carla, a cat fight, an off-the-cuff comment, collaboration, couple conflict – I say its confirmed. Michelle said, "Don't ask" and thought Carla Bruni-Sarkozy would behave like Oprah and never tell.  The First Lady was wrong  and now Michelle finds herself embroiled in controversial-comment hell.