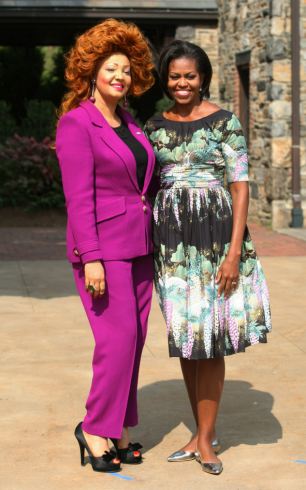 Originally posted at American Thinker. blog
At Stone Barns Centre in Pocantico Hills, New York, while playing hostess to "spouses of heads of government attending the United Nations General Assembly," America's "accidental fashionista" Michelle Obama came face to hair with the  "la banane" (the banana) icon of Cameroon, Chantal Biya.
Many of the ladies attended Mrs. Obama's luncheon dressed in traditional garb. However, Chantal chose a fuchsia pant suit, sky-high heels and an over-the-top, candy-corn orange, Marie Antoinette hairdo.  If height includes hair and heels, Chantal measured close to 6'4".
The word bouffante is derived from bouffer: "to swell up or puff out" and there was no denying Chantal's hair was inflated almost as wide as Michelle's poufy crinoline under her "floral-and foliage-themed" Tracy Feith print dress.
Dutiful First Lady Michelle diplomatically bussed Chantal on the cheek, ignored the coif and overlooked the fact that Mrs. Biya's husband Paul "has been ranked one of the four worst dictators in sub-Saharan Africa and one of the world's worst 20."
Biya, in power since 1982, obviously felt, just as Obama feels about the U.S. Constitution, that the Cameroonian charter was "fatally flawed." Consequently, Biya pulled a Manuel Zelaya and rewrote the document to "allow him to rule for life."
Autocratic tyranny and Crayola®-colored "mango tango" hair aside, Michelle treated all the ladies "to a seasonal lunch featuring bounty from the farm and the White House garden." After Mahmoud Ahmadinejad called for the "destruction of Israel" and intimated that Americans were "behind the Sept. 11 terror attacks," Michelle felt it best to lighten the mood by sharing stories about mozzarella and heirloom tomatoes.
The object of the ladies' luncheon/lecture was not to judge illegal elections, despotism, human rights abuses or repressive regimes, or even to swap hairdresser stories with Chantal Biya. Michelle Obama's heartfelt intention was to take the healthy initiative global and to showcase "sacher tortes…red jacket apricots and White House honey sorbet."
Who better than a rapt international sisterhood from Cameroon, Mongolia, Swaziland and Latvia could endure Michelle jabbering on about "French fries…ketchup… 'hair' tomatoes and pesto sandwiches?"
America's first hostess kept Turkish First Lady Hayrunnisa Gul, United Nations Secretary-General's wife Ban Soon-taek, and Republic of Kiribati First Lady Meme Tong, as well as the always "colorful" and vivacious Chantal Biya "Let's Move"-moving before lunch.
In addition to a tour of the farm, while teetering on stilettos Bouffant Biya and company were subjected to an excursion to the hen house and a stroll up a dusty dirt path.
Michelle instructed the ladies on why "Many kids may never learn that ketchup comes from a tomato and French fries from a potato…because they're disconnected from the food they eat" after which a Chantel tried to relate Michelle's French fry lesson to Cameroonian ndolé while Hayrunnisa  frantically scanned the table for kisir.
Michelle ended with a tutorial on sustainable farming, as well as the benefits of locally grown herbs. Immediately following, Stone Barn Center's chef and co-owner Dan Barber and three White House chefs served the exhausted ladies a lunch of "sun gold tomatoes from the White House Kitchen Garden, eggs harvested minutes earlier from the farm's chickens, and chicken with eggplant and ratatouille – also from the White House garden."
A good time was had by all, and Chantal Biya even managed to eat the entire meal without getting ratatouille in her flowing locks. With any luck, next year Cameroon's First Lady for Life may be able to convince Mahmoud's wife to attend the 2011 ladies' luncheon, especially if Michelle manages to secure a banquet room at the new Cordoba Mosque.