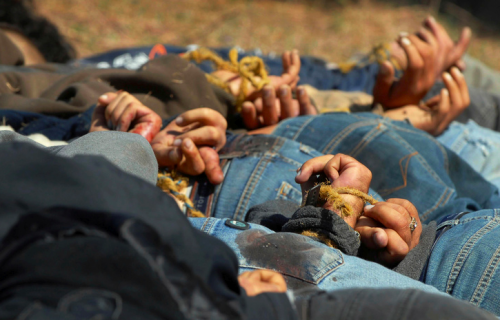 Originally posted at American Thinker. blog
In the 1960's, 70's and 80's, a trip to "The Pearl of the Pacific," also known as Acapulco, could get a tourist rest and relaxation, a Hollywood celebrity sighting, or at least an enviable tan. But that was then, this is now.
In the struggle for smuggling routes, the once popular tourist destination has become a "drug-battered" haven of violence and death in a conflict that has claimed over 30,000 lives since Felipe Calderon declared war on the cartels in 2006.  Presently, the Mexican drug trade is controlled by La Familia Michoacana, one of the most violent drug cartels
In January of this year, a "four-day death toll" reached a staggering 31, including one murdered man found "shot in the head and tossed under a bridge with his shirt pulled up over his head."  Police killings and drug hits have "soared since the death of Arturo Beltran Leyva, the capo of a cartel bearing his name who was killed by Mexican soldiers in 2009."
A Mexican weekend in January delivered 51 drug-related deaths, including "mutilations, drive-by shootings and summary executions."  Fifteen of those murdered included the decapitated bodies of young men between the ages of 15 and 25 who were found in abandoned vehicles in Acapulco.
The headless bodies were accompanied by "three messages signed by Joaquin "El Chapo" Guzman, leader of the Sinaloa cartel and Mexico's most wanted drug baron… warning against criminal groups fighting Mr. Guzman's organisation."
The viciousness is not exclusive to men – women as well as 15 year-old boys and now a 14 year-old girl have contributed to the ever-rising death toll.
Recently five women, all working in or at least "connected to a beauty parlor" in Acapulco, were found brutally murdered. "The semi-naked and bound bodies of two women and a 14 year-old girl were discovered in the salon … all three had their throats slashed."  Later police found the "corpses of another two women," known to be employees of the beauty parlor, "with cut throats dumped in the street." Thus far "no motive was given for the killings."
Spreading drug violence took the lives of 15,000 people just last year, which "prompted foreign governments to issue a number of travel warnings for parts of Mexico," severely impacting Mexico's tourism industry.
It's unlikely that travelers would pick Tripoli or Kandahar Province to enjoy a sunny vacation; likewise for Mexico, a nation bordering the United States of America, where a war rages on and bodies continue to pile up, circumstances have gone seriously wrong in a once great resort town, giving new meaning to the words to the song: "Loco in Acapulco."