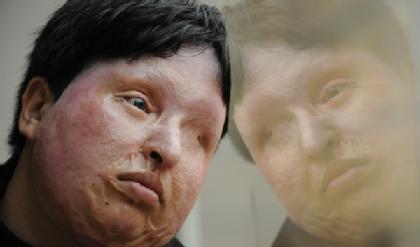 Originally posted at American Thinker. blog
'Eye-for-an-eye' punishment is not part of the American legal system as it is under Sharia law.  In countries like Iran, 'cruel and inhumane' punishment is sanctioned and considered completely legal.  If someone does something like, oh, let's say – throw acid on your face, blinding and disfiguring you for life, by law you're allowed to return the kindness in the exact same way.
In Iran, the land of stoning, hand-hacking, and honor killings, Majid Movahedi was "convicted and sentenced for pouring a bucket of acid over Ameneh Bahrami."
Ameneh's crime?  After Movahei stalked and begged for the beautiful young woman to marry him and she refused, Prince Charming responded to being spurned by showering her not with roses, but with acid. As a result, the lovely Bahrami, her clothes and shoes reduced to smoldering ash, was left horrifically disfigured and totally blind.
"Two weeks after the attack Movahedi surrendered himself to the police…[and] admitted attacking Ms. Bahrami."  In 2008, Majid's punishment was ordered by a court where a mutual action would be administered to his face and eyes.
In Iran it is legal for Ameneh to exact justice and reciprocate by pouring sulphuric acid into Majid's eyes and blinding and disfiguring him. Vengeance is a shocking form of legal remedy that seems foreign to American sensibilities, but is officially permitted by Sharia law and was, until recently, scheduled to be carried out on Majid in Tehran.
According to Al Jazeera, Ameneh was "very happy that this was going to end" with a bucket of acid being poured over her attacker's face.
Although blind, Ms. Bahrami said: "And yes, I was going to carry out the punishment myself, but I was afraid that I would get acid on my hands, so a doctor was going to do it. It's been six years that I've been waiting. The verdict is completely legal."
Ameneh was more than willing to participate in 'eye-for-an-eye' retribution and be present while Majid was held down and his face burned beyond recognition and tissues melted by corrosive 'vitriol.'  With Amenah being understandably skittish of additional acid burns, a doctor was willing to do the deed for her – a doctor!
In fact, Ameneh was headed to Tehran to be present at the "court-ordered" sentence, but "authorities in the Iranian capital decided to postpone the punishment…because of national and international disquiet including concerns raised by the British Government."
Human rights group Amnesty International stepped forward to protest Bahrami "exacting such brutal revenge on her attacker…[and]…called for a stay of the sentence, which it described as 'cruel and inhuman . . . amounting to torture.'"
By and large, Amnesty International's statement could be considered by some as tactless, insensitive and non-inclusive.  Isn't it time human rights groups came to realize that in order to embrace cultural differences the world must be open to the tapestry of customs and mores, laws and legalities of countries like Iran, where chopping off hands, stoning people to death, and pouring retributive acid over someone's face is just part of what makes the world an extraordinary place.
So as men in Middle East countries maim women and Sharia laws approve of barbaric reckonings, rather than condemn and criticize it's time for the world community to embrace even that which goes against enlightened sensibility. Human rights groups and American culture must learn to celebrate even the disturbing realities and barbaric practices that take place internationally by accepting that Sharia law, together with 'eye-for-an-eye' vengeance, is one of many practices on a fast track to infiltrate a formerly civilized/culturally diverse society.