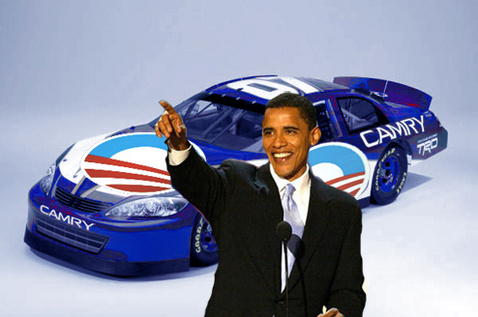 Originally posted at BIG Government
Update:  Contrary to original report, Kurt Busch is going to White House
During the 2008 presidential campaign NASCAR chairman and CEO Brian France invited candidates John McCain and Barack Obama to a race. John and Cindy graciously attended in New Hampshire, but bicycle-loving Barack was a "no show."
In an article entitled "Don't assume all NASCAR equates to Republican," Raygan Swan concluded that Obama failed to attend because "Obama's brain trust chose to end associations with NASCAR, because the sport shares the same stereotypes as Republicans."
Barack Obama's people must have surmised that point because NASCAR races open with public prayer, are traditionally attended by flag waving, "smokin' hot [pastor's] wives" and everyone in attendance enthusiastically sings along to patriotic renditions of the national anthem.
Now, three-plus years later, on a typical Wednesday-is-Funday-at-the-White House, the President has plans to honor NASCAR champion/John McCain supporter Jimmie Johnson and the "11 other Chase drivers from last year in a White House ceremony."
Ironically, in a week where scheduling problems are widespread, "nearly half of the 2010 playoff contenders won't be there." NASCAR claims that the five drivers – "Greg Biffle, Kurt Busch, Carl Edwards, Kevin Harvick and Tony Stewart – will not be attending the White House visit due to 'schedule conflicts.'"
In light of the jobs speech/Republican debate/NFL Football kerfuffle, who more than Obama should understand how schedules can upset the best-made plans? Apparently he doesn't, because the President who lacked consideration for NASCAR in the past has become a schedule-stickler, demanding a level of consideration from others that oftentimes he refuses to extend to anyone else.
Between unemployment, the economy, and the general mood of the nation, Barack must feel like a political race car driver in an out-of-control vehicle with a stuck accelerator, traveling 200 miles per hour on Talladega's Super Speedway.
To add insult to injury, first the President was banned from holding a joint session of Congress speech on Wednesday night, where he planned to tout his plan for job creation during a week where, for the first time in 66 years, it was announced that job growth was 0% for the month. Following that initial humiliation, Obama was then forced to postpone until the following night and is now scheduled to address a distracted audience anxiously waiting to see the Green Bay Packers challenge the New Orleans Saints.
Now we come to find out that earlier that same day, the President was dissed by a quintet of NASCAR drivers who probably remember the President declining the invitation to a NASCAR race in 2008, and who would rather airbrush a vehicle than meet with Barry.
In the future, Barack Obama should spare himself the embarrassment and restore Wednesday to its original function as the night he and Michelle originally designated for weekly cocktail/Conga parties.
The White House's response to having the invite declined by five guys in sunglasses and colorful jumpsuits was at best a tad off-putting. Tongue-in-cheek, a testy spokesperson acknowledged that "They must be very busy people."
Following up with a defensive rebuke, a White House spokesperson maintained that "Regardless of one's political views, the president is still the president – and an opportunity to speak with the leader of the free world is a rare and special one."
Snippy, snide and sarcastically chiding the NASCAR no-shows, an irritated Obama advocate argued: "You'd think whatever photo shoots or sponsor appearances these drivers have lined up on Wednesday afternoon – if that's indeed the reason – could be rescheduled. After all, this is the President of the United States we're talking about here." Ouch!
The truth is that, while not justifiable, White House causticity is understandable, especially after being barked off the hydrant after attempting to mark political territory by disregarding the Republican debate and scheduling a speech that should have been given weeks ago.
Either way, it's not surprising that a typically patriotic group would turn down the President's invite, but what is a little strange is that a White House that so recently had a very public struggle with a scheduling issue would react in such a huffy manner to an identical excuse.
Nonetheless, honorees Jimmie Johnson, Denny Hamlin, Jeff Gordon, Kyle Busch, Clint Bowyer, Jeff Burton and Matt Kenseth will attend. For the other five, if during his Thursday night job-creation speech the President should happen to mention creating jobs for car mechanics, in the future it might be wise to know who's hanging around the pit stop, tightening the lug nuts on the cars of the drivers who chose to respectfully decline the President's invitation.