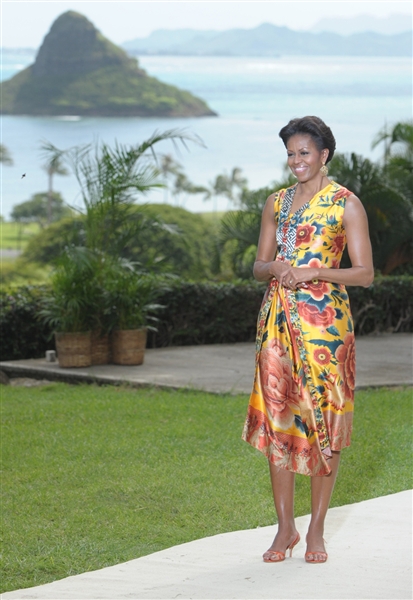 Originally posted at American Thinker. blog
Obviously unwilling to submit to hubby Barack's executive order for "federal agencies to curtail travel expenses and save," this year First Lady Michelle Obama decided to leave early again for Christmas vacation, and commence with the holiday festivities in Oahu.  Last year Michelle went on ahead of her husband, who was delayed by Congress, which is the excuse that has become a Christmas tradition every year since Obama took office.
Based on the public's negative response twice before to Michelle Obama's decision to shove off for the Yuletide break before the President on this third occasion, one can't help but wonder whether she expected a different reaction, or doesn't care, or is just uncontrollably impatient.
Not counting expenditures relating to staff and security or the cost of the cargo plane that typically trails the first lady's jet, this year Michelle must have felt entitled to another 10-hour, $6,330-per-flight-hour trip from Washington DC to the $3,500-a-day Winter White House in Hawaii.  Christmas 2010 and 2011's early arrivals cost approximately $200,000.
Last summer, prior to Obama arriving in Martha's Vineyard, Michelle did a similar thing.  Unable to control her impatience to hit the beach, Mrs. Obama and her girls grabbed a "little bit of extra vacation"  —  all of four hours' worth.
Mrs. Obama, accompanied by daughters Sasha and Malia, boarded a US government jet just a few hours ahead of the President, who flew into a local airport later that evening accompanied by Bo, the family dog. The First Lady also had "her own motorcade from the airport to her vacation residence."  The cost of the four-hours-early arrival for the Martha's Vineyard summer vacation 2011 was reported to be around $100,000.
While kids are writing Santa Claus this year to ask for warm coats and shoes that fit, it's likely many Americans still feel that "Mrs. Obama's separate jet travel sends the wrong message on a host of issues, from global warming to the budget deficit to the economy — in which currently so many people can't afford to take a vacation at all."
Which brings us back to the original question of why Michelle, after being criticized for allegedly spending more than $10 million of public money on luxurious vacations, would board yet another plane for the third time in 12 months and, while doing so, audaciously jack up the annual Michelle Obama Early Vacation air travel cost to more than $300K?
Whenever Mrs. Obama ventures forth on another vacation it appears as if she's flouting public opinion, arrogantly disrespecting the American taxpayer, and disregarding the difficult economic situation most Americans presently find themselves in.
As far as "doing the same thing over and over and expecting different results," Tom Morris, PhD, advisor, author and a man who bears the title of the "world's happiest philosopher," contends that "Sometimes doing the same thing a second time when it hasn't worked the first is indeed just foolish. But sometimes it's shrewd. Wisdom consists, in part, in knowing the difference."
For Michelle, who has been called a "not-so-secret weapon for the White House and the Obama presidential campaign," leaving early again for vacation may not be tactless lunacy so much as a subtle but calculated attempt at manipulating public perception; as November 2012 fast approaches, it's important that the man vying for reelection appear both dedicated and busy.
Every time Michelle leaves Barack home with his nose to the grindstone, she is doing what some would deem supremely foolish. However, the answer as to whether Michelle's behavior is foolish or not lies "in [America] knowing the difference" between an insensitive elitist, a "vacation junkie," and a shrewd spouse whose goal is to rehabilitate the floundering image and reputation of the husband she left behind in hopes of grabbing another four years' worth of taxpayer-funded vacations.