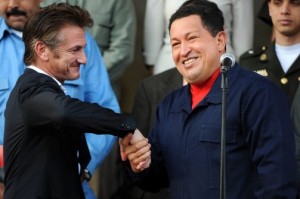 If the Venezuelans are looking for high-powered pallbearers to carry a tyrant to his final resting place, filmmakers Michael Moore and Oliver Stone and actor Sean 'Harvey Milk' Penn would probably be anxious to do the honors.
Moore, Stone, and Penn have made millions from the type of capitalistic box office competition 'Dead Man Walking' Hugo Chávez decried.  Yet, after hearing about Chávez's passing, Oliver Stone's reaction was "I mourn a great hero."
Stone first met Chávez in December of 2007. Then in 2009, he defended the dictator in South of the Border, a documentary that explored political and social changes in South America.  The film was an attempt to portray Hugo Chávez as something other than the "strongman…buffoon…clown" that he was.
Hearing of Hugo's demise, Oliver Stone, whose net worth is $50 million, said "I mourn a great hero to the majority of his people and those who struggle throughout the world for a place. Hated by the entrenched classes, Hugo Chávez will live forever in history."  Bidding adieu, the fact-challenged filmmaker added, "My friend, rest finally in a peace long earned."