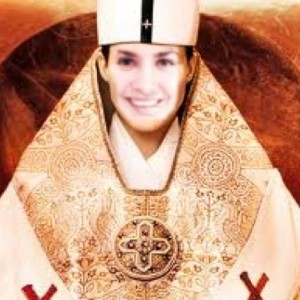 When the She-Pope of Carnegie Mellon showed up at the art parade dressed like the pope from the waist up, nude from the waist down with her womanly hedge fashioned into the shape of a crucifix, the whole display screamed: "Disgruntled Catholic School girl!"
It took weeks, but finally the president of Carnegie Mellon University, Jared Cohon, announced that campus police had charged young clergywoman Katherine B. O'Connor and her stark-naked astronaut cohort and classmate Robb Godshaw with misdemeanor indecent exposure.
In order to understand the underlying message of Katie's choice of "costume" at the CMU art parade, a little biographical information might be in order.
An art major at Carnegie Mellon, the woman behind the half-a-costume whose friends like to call her Katie is an eclectic artist/spoiled rich kid hailing from the affluent Main Line area of Pennsylvania.
As Katie grew into the expressive woman she is today, she always found creative ways to define herself. Multi-faceted in her talents, Ms. O'Connor's gifts range from piano, guitar, bass, and singing to all-around musical performance.  In her pope-parody, Katie didn't use musical accompaniment, but organ music would have been a good backdrop to her prelatic march in the art parade.
Nonetheless, Katie, who, among other things, aired out her gripes against the Catholic Church by handing out prophylactics, won her first art award at the tender age of six when she designed a line of maternity clothes for her pregnant step mom.
Read the rest of the article at The Blacksphere