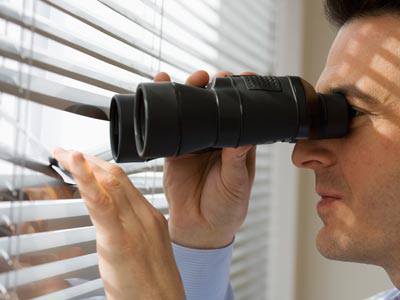 Originally posted at American Thinker.
Barack Obama alleges that snooping is in the nation's best interest because it is a powerful tool needed to keep Americans safe from dangerous terrorists. Yet, taking political correctness to a whole new level of lunacy, mosques, where terrorist types like to mingle with likeminded people, are currently off-limits to spying, snooping, and undercover stakeouts.
That's right — cell phones are being tapped, keystrokes on computers are being logged and email intercepted and read; but mosques, which are home base for homegrown terrorists, are strictly off-limits to counterterrorism efforts.
Apparently this is how it works: Let's say law enforcement is looking for a serial murderer who's known to take a cooking class or two before butchering his victims. So to prevent non-murdering chefs from being offended, the thing to do would be to avoid looking in culinary schools for the killer. Right?
Then, while the Killer Chef hides in a cookery sharpening his meat cleavers, the FBI should spend most of its time surveilling florists, shoe stores, and yoga classes. To avoid insulting Jeffrey Dahmer types, the protocol must be to never ever search for suspicious-looking characters in places where lust killers with cannibalistic tendencies are likely to hang out.
And why, pray tell, if we can't look for Muslim terrorists in Muslim mosques, is the Obama administration demanding gun owners register firearms? Why are gun shows and gun shops being scrutinized by undercover goons? In other words, if we apply the Muslim terrorist/mosque logic, if the Second Amendment is such a dire threat to the safety of America, gun shops should be the last place Obama looks for gun owners.
Since 2011, in order to investigate or go undercover to find terrorists in mosques, which is supposed to be what the prying program is all about, according to Investor's Business Daily FBI agents need "high-level approval from a special oversight body at the Justice Department dubbed the Sensitive Operations Review Committee." The SORC is a DOJ-appointed body made up of a chairman, members, and staff, all of whose identities are top secret.
If by chance one should suspect a sleeper cell is in a neighborhood nearby, fret not; just dial up the Sensitive Operations Review Committee. If no one answers, leave a message, because the SORC may be on a Sensitive Operations mission in Mexico supplying high-powered rifles to drug cartels and will no doubt promptly return the call as soon as they return.
In all seriousness, the Sensitive Operations Review panel was set up in response to Islamist groups who were offended that mosques were the targets of FBI stings looking for Muslim extremists. Apparently the ACLU and CAIR sued the FBI for surreptitiously staking out jihadists in Los Angeles mosques. Both organizations defined looking for Islamist extremists where Islamic extremists assemble as a violation of Muslim civil rights.
Prior to current don't-hurt-Muslim-feelings insanity being instituted, reports claim that there were dozens of fruitful sting operations conducted where potential terrorism was thwarted and American lives saved.
Can't have that! Therefore, with Obama in charge, if the procedures were working, the thing to do is to stop diligently monitoring any potential breeding grounds for homegrown jihadists.
That's why the Boston Bombers, who supposedly were inspired by Doku Umarov, a Chechen terrorist known as Russia's bin Laden, successfully blew up a pressure cooker filled with ball bearings, nails, and BBs at an iconic marathon, killing three and maiming 264.
The duo could have been stopped. Tragically, they weren't because while Tamerlan Tsarnaev was exhibiting "rage filled rants" and mocking Martin Luther King Jr. during worship service at the Islamic Society of Boston Cultural Center, reconnaissance efforts were focused on more pressing threats such as the whereabouts of tea party members, pro-lifers, ex-military men, Christians, and political conservatives.
It wasn't until after the Boston Marathon bombing that Tsarnaev's Cambridge, Massachusetts mosque was identified, and even then, to avoid "jumping to conclusions," counterterrorism officials hesitated to suggest that the Imam could help identify the Tsarnaev brothers from the images captured on video from the day of the bombing.
Because hey, even though it's been alleged that violent jihad is being preached inside some American mosques, acknowledging that fact and monitoring where jihadists worship would cut in on the precious time needed to track, crack down on, and harass American citizens who terrorize the country by bitterly clinging to the First and Second Amendment.