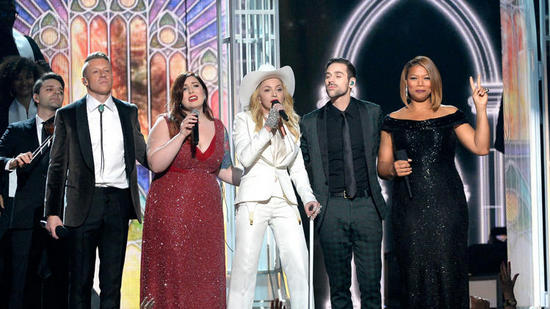 Originally posted at Clash Daily
Every churchgoing person who raised kids in the 1980's and 1990's remembers attending church programs where believers with the goal of evangelism were told to "bring a friend to church.'"
Let's just say oftentimes it didn't go well. Guests would get fidgety, roll their eyes, and after a pressurized "altar call" would head straight for the exits.
As for the hosts who tried desperately to prove that Christians aren't weirdos, well, they did it by acting freakishly joyous and embarrassingly hyper-spiritual. For the most part the effort didn't work, and all it did was ensure that those strong-armed into attending the Christmas service would be unavailable for the Easter Cantata.
Strangely, that was exactly the awkward feeling that was conveyed at the Grammy Awards when disgruntled and tattooed 20- and 30-somethings raised in Pentecostal/Evangelical homes attempted to send a message to Mom, Dad and Pastor Rolex that no one, not even Jesus Christ Himself, was going to impose restrictive religious constraints on them, their sexual orientation, or their propensity for casual sex.
The way the message was sent was via a high-tech tent meeting at a music awards ceremony that turned more evangelistic and in-your-face obnoxious than any well-meaning Christian parent has ever subjected their quiver-full of little arrows to in a less-than-perfect church.
Not counting Jay-Z thanking God "a little" for allowing his bethonged wife to sexually demean herself in front of millions of people, the three worst offenders were country star Kacey Musgraves, (speaking of arrows), pop-star Katy Perry, and singer/song-writer/LGBT newcomer Mary Lambert.
Kacey Lee Musgraves got her start at eight-years-old singing in church. Now Miss Musgraves writes lyrics that seem to express angst over unwanted religious coercion.
In "Merry Go Round" Kacey sings, "And it don't matter if you don't believe/Come Sunday morning, you best be there in the front row/like you're supposed to."
Far from the front row of the Texas church where she apparently sat against her will, this year the Best Country Album Grammy winner had a message for those stodgy church people during the Grammy Awards. Kacey Lee took to the stage in light-up cowboy boots and performed her non-traditional "I Kissed a Girl"-type hit song "Follow Your Arrow," which says in part:
Kiss lots of boys
Or kiss lots of girls
If that's something you're into
When the straight and narrow
Gets a little too straight…
Roll up a joint, or don't
Just follow your arrow…
Then there was Katy Perry, whose father is preacher Maurice Keith Hudson.
Rebelling against all things Keith Hudson Ministries, Katy has "followed her arrow" – first by rising above her gospel roots on the wings of a song entitled "I Kissed a Girl," and then by marrying and getting dumped by admitted alcoholic/drug-addicted/sex-addicted Russell Brand.
For a girl so anxious to escape church, Ms. Perry seemed right at home dancing in the first row of the rowdy worship service at the Staples Center in Los Angeles, California.
Katy even donned in an illuminated Knights Templar cross and, to the delight of the Grammy audience, by way of her hit song "Dark Horse" did a little preaching herself in what the media called a quasi-Satanic Ritual.
Ms. Perry also celebrated the gay-and-straight marriage ceremony officiated by actress/talk show host/former Baptist Queen Latifah. Besides announcing that the LGBT community were her "peeps," Latifah legally certified in Los Angeles County conducted the gay and straight wedding ceremony.
Jumping to catch the bridal bouquet, Perry seemed captivated by sickly-looking, grillz-adorned icon Madonna, a woman notorious for being unable to sustain a marriage for more than a nanosecond herself, singing an "Open Your Heart" wedding song backed by a fake gospel choir.
Then there was Mary "She Keeps me Warm" Lambert, the proud Grammy Award token lesbian whose anthem to gayness seems more about Lambert setting straight the evangelical Christians she feels judged her as a sexually conflicted teen than it was about entertaining the hedonists, be they gay or straight, cheering her on at the Grammys.   
While 34 couples exchanged vows, Mary sang with Macklemore and Ryan Lewis the marriage equality ballad she penned called "Same Love." The lyrics to "Same Love" speak to the cultural divide over gay marriage with bitter lyrics that say, "The right wing conservatives think it's a decision, and you can be cured with some treatment and religion."
Clearly, Mary has the need to feel vindicated in her beliefs, and attempts to accomplish that goal by being around like-minded people who sway and cry when she sings gay anthems and uses gay people to alleviate her conscience.
That's why Lambert assisted in a pseudo-church service that was orchestrated with the goal of correcting those she must hold responsible for making her feel bad for living the type of lifestyle she craved.
The whole creepy mass wedding, choir, huge stained-glass church windows, happy converts, passionate preachers, and forced look-at-me message rang hollow, cheap and sad. The stunt fell flat.
And, for lack of a better description, Mary Lambert and Co. starred in a Gay Marriage Cantata where liberals, fallen-away Christians, and same-sex marriage advocates took part in an over-the-top evangelistic crusade that converted no one.
Granted, there have been and still are some churches that lack authenticity and have nothing to do with Jesus. However, the sad truth is that people like Musgraves, Perry, and Lambert, all of whom were exposed to the Gospel growing up and who now use their careers as a platform to express disdain for anything associated with that past, are just as guilty of fanatical proselytizing as those they imply fueled their rebellion against God.