Originally posted at American Thinker.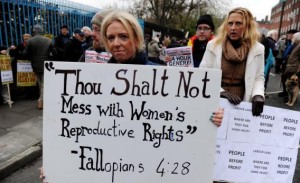 Recently, Barack Obama mocked Republicans when he said that those opposing his refugee resettlement plans are "scared of widows and orphans." The president's comment was in response to GOP presidential hopefuls who, out of fear of ISIS infiltration, expressed concern in the last debate about Obama's reckless plans to transport busloads of Syrian refugees into America.
The implication of the president's  'widows and orphans' comment was that the female gender is less likely to exploit the refugee crisis on behalf of ISIS.
Then, just when deranged hermit Robert Lewis Dear had effectively diverted America's attention from the women of Planned Parenthood who were dismembering and marketing baby body parts, along comes female Pakistani soldier of the Caliphate, Tashfeen Malik.
Described by family lawyers as a "90-pound… soft-spoken… caring… housewife," one would expect Tashfeen, whose name means 'sympathetic' in Arabic, to exude "sugar and spice and everything nice." Sadly, she was anything but nice. Although a member of the "fairer sex," Tashfeen built IEDs in her garage.
Together with her husband, Syed Rizwan Farook, the radicalized mommy had amassed things like Sippy Cups, diapers, and 5,000 rounds of ammunition inside her home. Furthermore, leaving aside more traditional hobbies for women such as macramé and quilting, judging from the stockpile of weapons, it appears as if Tashfeen expended most of her spare time training to inflict "unspeakable carnage" on infidels.
And here, all along, most people thought women fainted at the sight of blood.
After pledging her allegiance to ISIS leader Abu Bakr al-Baghdadi on Facebook and erasing her family's digital footprint, the jihadi bride dropped off her 6-month-old baby girl with her mother-in-law, and then hurried off to help her husband murder his coworkers.
For the sin of standing around a buffet table eating Christmas cookies at a center for people with developmental disabilities, the radicalized extremists killed fourteen people, and wounded twenty-one more. Soon after the attack, the duo led the police on a high-speed chase with Malik behind the wheel that ended with the couple dying in a hail of bullets.
In a December 5, 2015 article in the Washington Times author Kellan Howell points out that according to a report from George Washington University's Program on Extremism: "Ten of the 71 recruits for the Islamic State arrested in the U.S. since 2014 have been women… [and that]… women in the militant group's ranks [are] increasing."
So much for Barack Obama's 'don't be worried about the widows and orphans' theory.
Even still, despite public disbelief, the most astounding thing about the rabid killer Malik hanging her body armor in the closet next to her party burka is that some people are surprised a woman would do such despicable things.
Female stereotypes like to portray women as loving, gentle, selfless, and peaceful. Yet the truth is, many are hateful, vicious, and self-centered.
Think about it; if the feminine segment of American society were really what some falsely perceive them to be, 60 million additional human beings — 86% of whom were aborted for convenience — might still be alive today.
Sorry to have to be the bearer of bad tidings, but Tashfeen's behavior is not the exception to the rule. In fact, this jihadi bride's blatant disregard for human life only confirms the type of wanton terror some women are capable of.
Tasheen travelled to the U.S. on a K1 fiancée visa.  Once here, the young woman's sole intent was not to marry, settle down, and raise her baby girl, but to build pipe bombs, amass a cache of weapons, and then use them to ambush and kill as many vulnerable people as possible. The Mommy Terrorist's life's goal was jihad and false convictions took precedence over raising her child.
Sound familiar? After funding Planned Parenthood to the tune of $500 million per year, Americans should not be surprised that a diminutive woman, driven by a perverted ideology, blew 14 people away.
Now, the obvious question that needs to be answered is whether Tashfeen's murderous tirade is any different than the evil exhibited every day by 4,000 self-absorbed women who, rather than head toward a Christmas party with an AK-47, seek out an abortion clinic with the sole intent of ambushing a vulnerable child in the womb?
After witnessing the religious zealotry of those who support full access to abortion, and after hearing the "fairer sex" defend carving up and selling baby parts while calling it a "war on women," Americans should not be surprised that someone like Tashfeen is capable of doing such a brutally horrific thing.
That's why; rather than be appalled at the jihadi bride, Americans should recognize that women can be more vicious then men.
In this case, the only difference between pro-choice and ISIS womenfolk is that the latter dress up in vastly different attire. In addition, unlike the more reservedright-to-choose crowd, womanly soldiers to the Caliphate take their directives from a revered manual, and prefer executing their victims in a more public setting.
Either way, whether a jihadi bride or not, women who murder their babies are just as devoted to the slaughter of the defenseless as was Tashfeen Malik.