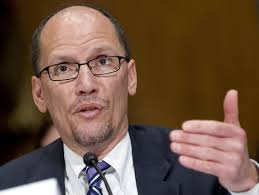 Originally posted at American Thinker.
Once again, Democratic National Committee chairman Tom Perez's inconsistent statements confound both reason and sanity.  Take for instance the topic of giving shelter to illegal aliens.  Perez strongly believes in sanctuary cities making sovereign decisions.  But in the next breath, Perez says he also strongly believes "[t]hat [abortion rights are] not negotiable and should not change city-by-city or state-by-state."
So, based on those contrasting statements, according to Tom, city or state decisions are either "negotiable" or non-negotiable, based solely on which agenda is being advanced.
Then, recently, at a May Day rally held in front of the White House, speaking Spanglish, Tom told the boisterous crowd, "No human being is illegal.  We must treat everyone with dignity."
Again, it appears as if abortion activist/illegal apologist Tom Perez has mixed things up when he says that because they are human, illegals can't be deported.  Yet, at the same time, unborn humans can be aborted.  In other words, in the mind of Tom Perez illegal + human = not illegal, while unborn + human = not human.
Stunning illogicalities of this sort don't stop with Perez just conferring dignity on one group of humans while denying life to another.  As a matter of fact, recently, right ahead of the House vote to repeal Obamacare, Perez, who clearly doesn't think about how incongruous his declarations sound, said that if Obamacare is repealed:
Trump and Republicans will own every preventable death, every untreated illness and every bankruptcy that American families will be forced to bear if this bill becomes law and millions lose access to affordable care. The 24 million that lose access to healthcare is not just a number.
Notwithstanding Tom's stunning assertions, the DNC chair did aptly reconfirm for those he seeks to condemn that the sixty million lives lost to abortion, and the thousands who've died at the hands of illegal immigrants, are "not just a number."
Nonetheless, similar to Nancy Pelosi (D-Calif.), who, with oversized gavel in hand, once accused Republicans of wanting "women [to] die on the floor" for voting against funding abortion in the Patient Protection and Affordable Care Act (PPACA), the DNC chair is quick to accuse but slow to self-evaluate.
Tom personifies the mindset of liberal women on social media who now are saying that repealing Obamacare is tantamount to Trump forcing women who've been raped to pay for their own abortions.
Apparently, lefties like Perez and the pink pussy-hat brigade don't realize that sentiments such as those implicitly equate American citizens with Islamist extremists who punish women who've been raped by stoning them to death.  Furthermore, maybe if Americans denouncing "preventable death" want to be taken seriously, they shouldn't champion the slaughter of 3,000 unborn babies a day, or sanction the influx of those responsible for the daily demise of numerous fellow citizens.
Either way, Perez did go on to say that the American Health Care Act (AHCA) bill "represents fathers, mothers, sisters, brothers and even newborn babies with heart diseases or cancers that are too costly to treat without affordable insurance."
Based on the left's cadaverous track record, and although purely speculation, the outcry coming from the left over repealing Obamacare is probably rooted in an unspoken concern that less carnage may result, not more.  That's why liberals should just own up to the truth and admit that besides wounded pride, their disappointment over the defeat of Obamacare has more to do with losing the power over life and death than concern for Americans dying.
Besides, after supporting the murder and selling of baby body parts, late-term abortion-loving liberals defending Obamacare by lamenting newborns dying from fatal diseases is sort of like cannibals grieving over those they never got to boil and eat.
In the end, by promising that Trump will "own every preventable death," once again, Tom Perez has made a proclamation that, rather than place the onus on the Republicans, actually convicts the Democrats.  Therefore, if thwarting death is really Perez's objective, maybe he can give credibility to his convictions by denouncing abortion and supporting closed borders.