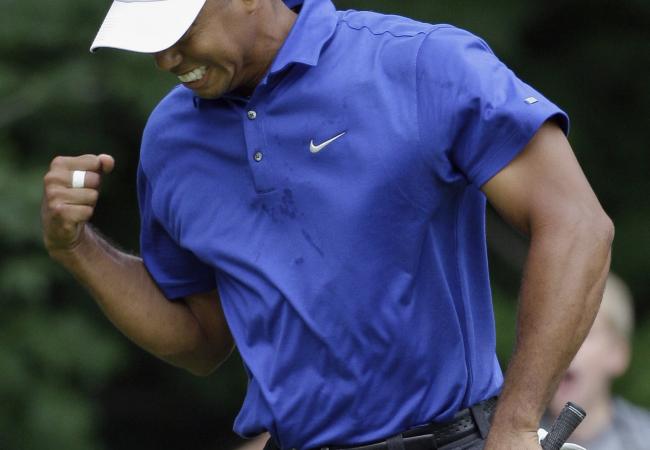 Addendum to the Grubby and the Tiger post:
Let's see if we have this straight…
Tiger cheats on Elin with Rachel and Rachel is mad at Tiger for cheating on Rachel?
Tiger thought Jamie Grubb (Grubby) would keep their sorted affair secret because everyone knows mistresses are people you can trust to be honest? If Jamie had kept her mouth shut Rachel would be none the wiser.
All eight (so far) of Tiger's girlfriends sincerely believed that they were the only ones–other than his pregnant wife of course?
Rachel Uchitel, or if you prefer 'Yucky,' had no problem sleeping with a lying, sneaking adulterer as long as he promised to remain faithful to her alone?
Rachel believed Tiger would be true because everyone knows that married cheaters are monogamous?
'Yucky' found out in the tabloids that Tiger was simultaneously bedding eight women, which for Rachel was one (1) too many more than Tiger's wife Elin?
Doesn't  the lovely and charming Miss Uchitel understand that a guy can get waylaid when traveling through Las Vegas?
Rachel 'Yucky' Uchitel, bastion of morality, "…was mad at Tiger when she found out about the other girls and did not speak to him for three days, but he texted her."  In the intellectual circles Rachel travels in text messaging, sexting and emailing are not officially considered  speaking?
According to Rachel, the relationship lasted for two months and Rachel believes her affair with Tiger was "intense and real." (Taking a momentary gander at Rachel's breasts and lips, it is apparent that 'Yucky' doesn't even know what the word "real" means.)
According to updated adultery standards if you earnestly believe a relationship is "intense and real"– taking a bubble bath with someone elses' husband, while he blows goodnight kisses to his children on the cellphone makes the scandalous copulation that follows acceptable.
But then again, one can understand Tiger's fascination with the Hampton's Diva who said, "I'm obsessed with work ethic and can get anything done," who better than Tiger Woods knows what that's about?
Rachel, the supposed love of Tiger's life, also said, " I'm aware of what I am good at and what I am not, and I surround myself with people to help get the job done flawlessly," which brings to mind the other eight women who helped 'Yucky' "get the job done."
In addition, Miss Uchitel prides herself on superior service, " I'm intuitive about reading people's wants and needs, and I take customer service to a whole new level." America hears you young lady you have certainly taken "service to a whole new level."
Rachel said, "Tiger pursued her for 4 months before they actually got involved, and he was very possessive and jealous."  Before  surrendering to a married man it is always good etiquette to make him wait for more than three months.   Earth to Rachel, this guy chases little balls for 18 holes all over a green –so don't be so flattered.
Poor, clueless 'Yucky' seems unaware that — Tiger pursued Elin who, until he won her over, wanted nothing to do with Tiger.  Finally, proposing to her while on safari observing the mating habits of none other than wild African tigers — which should have been the Swedish beauty's first clue to run for the hills.
If 'Yucky' Uchitel is angry about Tiger the 'cheetah' breaking his fidelity promise to fornicate only with her, one has to wonder how the scorned mistress feels about the news that Tiger  never put a club head cover on his three wood, while  practicing on other fairways.
Rachel's classy friends have stepped forward and said, that Tiger told Rachel he loved her–and if anyone knows the true meaning of  "love" Tiger be the one that surely Wood.
One last thought, if a gorgeous, swimsuit model can't keep Tigers woody tanked..I doubt Rachel 'Yucky' Uchitel will succeed in the Herculean effort.
Recap: Cheaters cheat, the yucky, grubby women they cheat with are then hurt when the cheaters cheat on them.  Cheaters trust women who cheat with cheaters and expect women who go with married men to keep secrets, confidentiality and erase racy emails.
Tiger is probably imbibing right now because at the rate of the revelations–more yucky, grubby stuff is yet to be revealed.