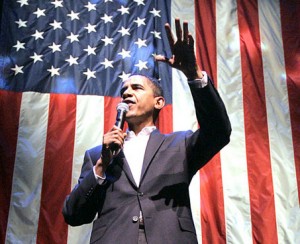 Originally posted at American Thinker. Blog
Obama has warned Democrats who vote "No" for health care reform that he will not campaign for them in the upcoming election. The President "refuse[s] to make fund-raising visits during November elections to any district whose representative has not backed the bill…Mr. Obama's threat came as the year-long debate over his signature domestic policy entered its final week."
Oddly enough, Obama's intimidation may be the very impetus wavering Democrats need to help them make a final decision to side with the people and vote against a bill most Americans reject.
Back in the Obama hay day, "A one-night presidential appearance [could] bring in hundreds of thousands of dollars in funds which would otherwise take months to accumulate through cold-calling by campaign volunteers." That was before early last summer when the independent support that delivered Obama the White House began bleeding out.
"In May, 66 percent of independents approved of Obama's job performance, according to the Gallup Poll."By August, Gallup showed the president was supported by 49 percent of independents, a collapse during the health care debate that reflects independents' dislike of deficit spending, the growth of big government and one-party control of Washington.
In fact, prior to Obama's childish admonition to withhold campaign support for votes, some congressional candidates were already making the decision to distance themselves from the President. "Reporting from Washington – As President Obama's approval ratings sag and the mood of voters sours, some Democratic congressional candidates are distancing themselves from the White House, with the back-channel blessing of party officials."
Even those in his own party realize Obama's support for a candidate is likely a reelection death knell. But, as usual, Obama appears clueless.
What planet does Obama live on? The President appears to believe campaigning for his own party would leverage votes from skittish Democrats.  Hasn't David Axelrod and Rahm Emanuel gingerly informed the President of his most recent historic milestone? As of December, Obama's job approval rating was 47 percent in a Gallup poll the "lowest ever recorded for any president at [that] point in his term?"
The President undermines his own effort by continuing to threaten withholding campaign support in hopes of goading moderate Blue Dogs to support a bill everyone knows blatantly defies the will of the people.  Astute Democrats under pressure are well aware voting with the President is greater assurance of losing the election than signing on and having Barry and his traveling teleprompter show up on a candidate's behalf.
The best thing politicians fighting to protect the future of America could do, would be to advise Democrat colleagues to vote "Yes" with Obama.  In doing so, Obama's Hope and Change campaign bus will set out across America, delivering landslide victories to Republicans and guaranteeing not one Democrat, up for reelection, will have the opportunity to return to Washington DC after the November election.