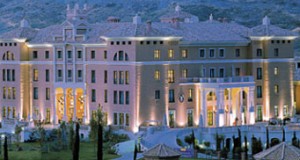 Michelle Obama travels all the way to Marbella Spain for reconnection time with her daughter and who shows up in the lobby? Antonio Banderas and Eva Longoria.
What a twist of fate that two Hollywood luminaries just happen to be hosting a star-studded event in the Villa Padierna in the same hotel on the same weekend Michelle Obama is holidaying on the Costa del Sol.
One would think a 5-star hotel would plan more efficiently and at the very least inform the First Lady that August 7th might not be the best time to seek toned down, "private" time with Sasha.
Regardless, Michelle and Sasha spent two days following in the "the footsteps of Ernest Hemingway and Orson Welles." Accompanied by a motorcade of 13 cars and three dozen tag-alongs, mother and daughter visited "Spain's oldest bullring, the Plaza de Toros in Ronda, a picturesque town in the hills above the Costa del Sol."
"The group…visited some of the town's historic houses and later stopped for lunch at Del Escudero restaurant, set in a 19th century villa with whitewashed walls and red roof tiles located next to the bullring."
Now it appears, as chance would have it, the stars aligned in such a way that the Villa Padierna is also preparing for "Marbella's event of the year – a star-studded charity gala hosted by Hollywood A-listers Antonio Banderas and Eva Longoria."
No one knows for sure if she'll attend but apparently, the First Lady was invited by desperate housewife Eva Longoria-Parker to be a "special guest at the event." Mrs. Obama, even if hesitant to leave Sasha with a sitter, is somewhat obligated to make an appearance because Eva "lent her support to Barack Obama during his presidential campaign," and has never once declined an invitation to the White House.
So far, more than 400 "Starlite Gala" tickets have been sold, costing 1000 Euros each, which calculates to $1,317.59 apiece in American currency.  In fact, an additional 200 fawners' names were added to the "waiting list after learning that Mrs. Obama might be present."
Among those clamoring to dine in the same room as the wife of the US President are a host of European celebrities and aristocrats, including Gunilla Gräfin von Bismarck, great-granddaughter of Otto, who has a home in Marbella.

Also in attendance will be tennis player Boris Becker with his wife Lilly Kerssenberg, and bestselling spiritual guru Deepak Chopra.
First-and-foremost the draw is always children's charities.  But then again, one never knows if a single night hob-knobbing with the First Lady could end in a "close friend" travel invitation to the exotic island of Tahiti.
The press predicts that if "Mrs. Obama does choose to attend the [Starlite Gala] it is unlikely that she will join guests to dance the night away at the after-party organized in Marbella's premier nightclub, the Disco Olivia Valere." After all, the rhythmic First Lady is probably tuckered out from flamenco dancing in Granada.
Anyway, Sunday is a big day and nobody knows how to set priorities like Shelley. First, Mrs. Obama plans to attend an "official" luncheon with Spain's King Juan Carlos and Queen Sofia at their summer palace in Majorca.  Then, Michelle flies home to Barry's loving arms just in time to pack for next weekend's trip to the Gulf Coast of Florida, which is a hop, skip and a jump from Miami, where the First Lady might just "coincidentally" bump into Gloria Estefan or reconnect with Boris Becker.
Update: It appears Barry may have told Miss Shelley "Starlite" to cool it. Michelle's elite Spanish frolic was making the President who preaches sacrifice look a tad hypocritical.  So enough was enough on the Spanish excursion – instead  Shelley chose to have a quiet dinner in La Meridiana restaurant ten miles away agreeing to forgo the limelight for a couple of minutes.