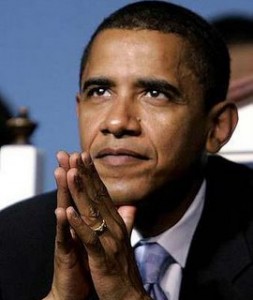 Responding to the controversy where nearly one in five people in America believe that Barack Obama is a Muslim, White House officials felt it was incumbent upon Obama apologists to speak out in defense of the religiously misunderstood President's Christianity by underscoring the fact that Obama "prays daily."
Without revisiting Obama's propensity to embrace Islam tradition and commiserate with Muslim causes, one thing's for sure:  based on Barack's behavior towards Christian principles, beliefs and practices, regardless of whether he is a Muslim or not, the President's adherence to authentic Christianity is certainly in question.
A new poll showed that nearly one in five people, or 18 percent, believe Obama is Muslim. That was up from 11 percent who said so in March 2009. The survey also showed that just 34 percent said Obama is Christian, down from 48 percent who said so last year. The largest share of people, 43 percent, said they don't know his religion.
After sharing the Obamas' Martha's Vineyard vacation itinerary, White House spokesman Bill Burton segued into weightier issues, saying "most Americans care more about the economy and wars in Iraq and Afghanistan and they are not reading a lot of news about what religion the president is."
For believing Christians and Jews alike, Ecclesiastes reminds us "A cord of three strands is not quickly broken." Faith, be it true or counterfeit, impacts every aspect of life, including war and the economy.
Jesus Himself instructed His followers how to recognize one and the other: "By their fruit you will recognize them. Do people pick grapes from thorn bushes, or figs from thistles?" Could Jesus have meant "thorn bushes and thistles" such as Obama's support for the homosexual agenda and adherence to the anti-life platform?
Obama claims he is the "Christian son of a Kenyan Muslim father and a Kansas mother."  As a small boy, "Obama lived in predominantly Muslim Indonesia with his mother and Indonesian stepfather. His full name, Barack Hussein Obama, sounds Muslim to many." Many Americans remain unaware that Barack Hussein Obama's "Christian" mother named her son Barry Soetoro.  However, to date, Barack has yet to reclaim that Christian birth name after supposedly converting to Christianity.
A defensive Burton speaking in the President's defense said, "The president is obviously a Christian. He prays every day."  Well, that settles it.
While a prayerful attitude is foundational to the Christian life, praying everyday does not a Christian make.  Most people know most world religions, including Islam, make prayer an integral aspect of religious practice and ideology.
In a Pew poll, "Six in 10 of those saying Obama is a Muslim said they got the information from the media, with the largest portion 16 percent saying it was on television. Eleven percent said they learned it from Obama's behavior and words."
In the past, the President has boasted, "My Faith and Neighborhood Initiatives director, Joshua DuBois, he has a devotional that he sends to me on my BlackBerry® every day," Obama said. "That's how I start my morning. You know, he's got a passage, Scripture, in some cases quotes from other faiths to reflect on." Thankfully, the public isn't fooled into believing Obama's religious affiliation is somehow associated with the claim that his Blackberry® is updated daily with Scripture verses.  Even the most laid-back spectator recognizes that Obama exhibits disdain for all things Christian when not checking Scripture-updates on a hand-held device.
Take for instance Obama's politically correct effort to "reach out to other faiths." Breaking with Christian tradition, Obama prefers to celebrate "non-religious Christmas [es]."  Last year, America's Christian President requested the Nativity scene, memorializing the birth of Jesus, be removed from the East Room of the White House.  Does Barack expect a nation that largely identifies itself as Christian to believe reaching out to other faiths requires denying your own?
Jewish convert to Christianity, Paul of Tarsus, said in Romans 1:16 "For I am not ashamed of the gospel, for it is the power of God for salvation to everyone who believes, to the Jew first and also to the Greek."  Yet Obama requested all references to Christ's crucifixion be covered up for his visit to Catholic University of Georgetown where it was more than appropriate for them to remain within view.
Worldwide, Christians traditionally attend church in direct response to Paul's letter to the Hebrews Chapter 10:23-25 which says, "Let us hold unswervingly to the hope we profess, for he who promised is faithful. And let us consider how we may spur one another on toward love and good deeds. Let us not give up meeting together, as some are in the habit of doing, but let us encourage one another—and all the more as you see the Day approaching."
The last time Obama set foot in a "Christian" church was to sit under the radical tutelage and in the pews of Jeremiah Wright, a racist anti-Semite disguised as a preacher.  For 20 years Obama tithed and supported a pastor and congregation that spewed hate speech and racism, both being transgressions removed "as far as the East is from the West" from the Gospel of Jesus Christ.
Since then, President and professed Christian Barack Hussein Obama has yet to assemble with other believers to worship the Lord.  Why?  Out of self-professed fear of disrupting a congregation.
Concern for inconveniencing others is a poor excuse coming from a man who has had zero remorse for disrupting 300 million people, economically, emotionally, politically and, on more than one occasion, literally.  Obama's self- aggrandizing, disingenuous comment reflects a lack of familiarity with real Christianity, whose adherents encourage all eyes be fixed on Christ, regardless of who is in the room.
So Obama, while busily funding abortion, hosting Ramadan dinners and bowing to Islamic despots, can attempt to keep up the fake Christian façade.  The President obviously doesn't consider Americans astute enough to recognize true Christianity when they see it.  Obama may claim to be a prayerful man, but what god does the President pray to exactly?  More and more Americans are asking that question as Barack covers up Christian symbols, skips ceremonial gatherings marked by Christian prayer, sides with Islam against the will of the people, and undermines the Judeo-Christian foundations of freedom and liberty that all Americans, regardless of religion, hold near and dear.