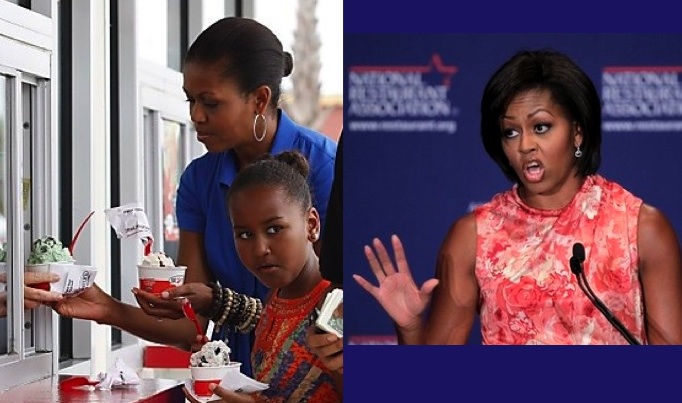 Originally posted at American Thinker. blog
The woman who's taste-tested every flavor of ice cream from Maine to Spain is out dictating gastronomical edicts to the National Restaurant Association.  With the help of Cass Sunstein, the First Lady of BBQ has decided to "nudge" Americans towards what she thinks kids should be eating because, God knows, parents and restaurateurs haven't a clue.
The same woman who ordered hot fudge sundaes while eating her way across the North and Southeast of America is now "plead[ing] with restaurants to take a little butter or cream out of their dishes, use low fat milk and provide apple slices or carrots as a default side dish on the kids' menu."  One can't help but wonder whether Sasha would have agreed to being prodded toward carrot-flavored frozen skim milk in lieu of the "melon and raspberry" ice cream concoction Mom purchased for her on the notorious Spanish "private mother-daughter" trip.
Part time nutritionist, full time First Lady Michelle believes restaurants need to "rethink the food they offer and reformulate their menus to help combat childhood obesity."  Wonder if Michelle felt led to speak to the chef at Stewsman's Lobster Pound, in Bar Harbor, Maine, about revising the menu. It was at the "Pound" that Michelle and Barry scarfed cholesterol-laden crustaceans while the girls devoured baskets of shrimp, which the menu described as "locally netted …cooked up crispy with Cole slaw, French fries and tartar sauce."
Home from Martha's Vineyard, where the family dined at the Beach Plum Inn, Sweet Life Cafe, and State Road Restaurant, none of which is renowned for diet fare, Mrs. Obama removed her epicurean connoisseur bonnet and replaced it with a dietician/lecturer's cap.  Speaking in collective terms, the First Lady urged restaurateurs and executives to control food choices, saying "We have to do more, we have to go farther, and we need your help to lead this effort."
In the past, the First Lady delivered "similar messages as part of her effort to boost childhood nutrition."  Michelle successfully browbeat the restaurant industry into believing "parents' choices at restaurants need to be easier, and healthy options shouldn't be buried on the menu" under the fried shrimp baskets.
Michelle not only "appealed to the industry's creativeness to get the job done," but put the burden on restaurants to maintain family harmony by saying, "You know what gets them to drive their poor parents crazy because they just have to have something."  In other words, do what you have to do to make lima beans taste like Rice Krispies Treats®.
According to Michelle, restaurants such as those frequented by the first family are often thought of as the worst offenders in terms of nourishment.  Yet the Obamas trawl ice cream parlors, chocolatiers, and the Magnolia Bakery, and eagerly sample spareribs at places like 12 Bones Smokehouse in Ashville, North Carolina.
After enduring the First Lady's harangue, submissive executives agreed to "rethink their menus" with a mind to reconfigure offerings to be even more boring than eating at home, which should do wonders for the restaurant business.
America can also say goodbye to IHOP's famous chocolate-chip pancakes, topped with powdered sugar and whipped cream. IHOP president, Jean Birch, said her company "will soon be coming out with a new children's menu," which plans to propel the unwilling toward fruit as "the default side."  Birch said the "aim is for parents not to have to argue with kids to get them to order healthier items." Problem solved! Just remove from the Carte du jour everything except that which bears the Michelle Obama official stamp of approval.