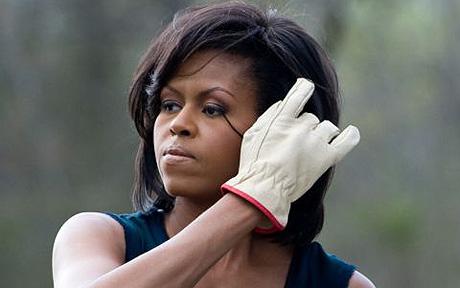 Originally posted at American Thinker. blog
Michelle Obama has taken off the gardening gloves and joined the fight to elect Democrats in the mid-term elections.  Speaking to Obama supporters from home, Michelle told voters the "worst possible thing" crestfallen Democrats could do on Election Day is to stay home.
Michelle spoke one-on-one to Organizing for America volunteers whose mission is to "empower communities across the country to bring about [Obama's] agenda of change." OFA members are the liberal stuff that comprises "grassroots campaigns …in communities across the country," committed activists that work together to advance "bottom-up support that makes real change" a devastating reality.
Michelle's Internet/conference call buoyed OFA doctrine that includes: "Connecting with other supporters to form strong local groups, ready to take on whatever challenges we face," as well as "Supporting leaders who share [Obama's] values and are ready to carry forward the fight for change."
The group's creed may need further clarification, because devoted volunteers have been known to interpret "ready to take on whatever challenges we face" to mean wielding billy clubs to deter certain people from voting.
The First Lady's motivational communiqué was intended to stir Obama's base to action.  Ironically, the message exposed the issues that have made voters eager to unseat the purveyors of the ideology Mrs. Obama promotes.
Take for instance the First Lady acknowledging, "Many people are frustrated with the pace of change and still are hurting economically." Michelle implored, "Don't let frustration keep you from voting." The news is Democrats are about to find out that "frustration" is the impetus driving an historic number of fed up Americans to vote out the politicians Michelle hopes to prop up.
Nevertheless, the First Lady is committed to the cause and plans to hit the road to campaign for Democrats. A word to the wise: Michelle, please leave your designer sneakers at home, or else the cross-country bus trip will be interpreted as another excuse for a vacation.
During the election excursion/stump speech/practice call Michelle did confess that "Democrats…are expected to lose significant ground in Congress." However, with the right support, Michelle maintains, "there is still time to shift the momentum."
Heaven knows the Obama family accomplishes a lot in a month. Wasn't it during the first 30 days of Obama's presidency that America was transformed from a nation to a ruination? In fact, it was during his first month in office that Obama laid the groundwork for Democrats to lose the very mid-term election Michelle is working hard to recapture for the left.
Mrs. Obama reminded the "faithful that their support … helped President Barack Obama push through changes such as health care reform and new regulations for Wall Street," two of many issues that inflamed anger, volatility and fueled voter rage.
If helping Democrats is the goal, the First Lady should consider discontinuing the use of phrases like "time to get a whole bunch of people very excited and focused on what's been accomplished and what work we have to do."  It's the "accomplished" and "work we have to do" notion that rouses concerned voters to action, but for reasons other than Michelle intends.
Mrs. Obama exhorted supporters to "dig deep" and do "whatever it takes to support Democrats who will work to keep our country moving forward."  Sorry Michelle, but the plan is this: a fed up electorate will dig America out of the hole Barry created and in its place lay to rest a failed president's disastrous agenda before it does additional damage.