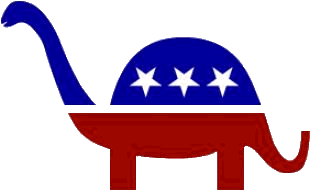 According to recent scientific studies, "a third of all mammal species declared extinct in the past few centuries have turned up alive and well."  In fact, "Some of the more reclusive creatures managed to hide from sight for 80 years only to reappear within four years of being officially named extinct in the wild."
The idea of wiped out flora and fauna reappearing may enthuse worried conservationists. However, if species in the animal kingdom are able to resurface long after apparent extinction, then a similar threat looms when attempting to oust politicians from perches, lairs and feathered nests.
Long believed-to-be-departed mammals suddenly appearing in the wild, if theoretically applied to politics, generates apprehension for those hopeful that the Democrat majority will be permanently expunged from the Congress, Senate and White House. Yet despite the possible threat, it is comforting to know that at least the late great Robert "White Hood" Byrd (D-WV) and Teddy "Cape Lion of the Senate" Kennedy won't be gracing the hallowed halls of power ever again.
Nevertheless, there are still quite a few never-say-die liberals haunting the political scene, leaving left-footed Demosaurus prints all over a right-of-center country, not to mention the criminal and the ethically challenged still eagerly planning to make political comebacks, i.e. former Illinois Governor Rod Blagojevich.
Presently, there are numerous examples of politicians who ought to have been gone long ago being sighted around Washington DC.  Take for example, Jimmy "Red-cockaded woodpecker" Carter intermittently surfacing to hammer away at race issues and dead Kennedys.  And let's not forget the indomitable Bill "Ozark Hellbender" Clinton.  Clinton turns up in diverse locations leaving a unique scent on everything from humanitarian causes to campaign stops for vulnerable incumbents.  Recently, Clinton the preservationist stumped for at-risk Congressman Barney Frank and zealously attempted to save America's "Queen Conch" from impending doom.
Even elusive political relic Michael S. Dukakis, former Massachusetts Governor and failed 1988 presidential nominee, visited the White House offering strategy advice for the midterm elections. Dukakis, like the shy okapi, "vanished on the wildlife radar for decades." Dukakis was nowhere to be found, and then suddenly reappeared like a cloven-hoofed okapi, leaving left-leaning imprints on the surface of the 2010 mid-term election.
In fact, the newly compiled list of mammals "back from the dead" reads like a who's who of fossilized Democrats yet to be added to a certified roster of vanquished politicians.
Topping the list is the "Cuban Solenodon," a species similar in nature to Progressive incumbent Alan Grayson (D-FL). The perpetually "rat-like" Grayson crawled out from a campaign hole to accuse Tea Party activists of being "people who… [25 years ago]… were wearing sheets over their heads."
Grayson, complete with "scaly tail and toxic saliva," is poised to be unseated in Florida's Eighth Congressional District by Daniel Webster, who Grayson recently called Taliban Dan.  Florida voters should take heed; extermination at the polls is necessary to guard against a future Cuban Solenodon-style Alan Grayson comeback.
Revitalized rats aside, hope prevails, because "Many scientists believe the world is going through a new 'mass extinction' fueled by mankind – and that more species are disappearing now than at any time since the dinosaurs vanished 65 million years ago." In theory, scientific predictions bode well if applied to the next two elections where mankind-caused 'mass extinction' is a needed remedy to depose ancient Demosaurus' presently in power.
Even more important than mass-, permanent is necessary because according to scientific studies, "More than a third of mammal species that have been classified as extinct or possibly extinct, or flagged as missing, have been rediscovered."
Another mammal rebirth is the Christmas Island shrew. Presently America is looking forward to removing the gavel from the liberal grip of Nancy Pelosi, who is one helluva prehistoric shrew herself. For the last four years, the Capitol building has been subjected to "high-pitched" Speaker squeaks throughout the rotunda. Thus, a majority of voters appear to be of the opinion that it's time for Nancy to tunnel under a rock and stay put.
If polls are correct, habitat-dependent Pelosi is one step from demotion to an aisle seat. If all goes according to predictions, for the next State of the Union address, the Shrew will officially be de-perched and seated in the spectator section amongst the rabble.
Dr. Diana Fisher, of the University of Queensland, Australia, claims that in the animal kingdom, "Mammals that suffered from loss of habitat were the most likely to have been declared extinct and then rediscovered," a precedent Ms. Pelosi will likely attempt to emulate.
In addition to the rats and shrews, back from obsolescence are flying foxes.  For wildlife lovers, a bat revival is a wonderful development, but spells disaster in the political realm. Roosting in the Senate is a colony of Democrat grey-head flying foxes. To name a few: Barbara Boxer (D-CA), Blanche Lincoln (D-AK), Patty Murray (D-WA), and Barbara Mikulski (D-MD). In the House, endangered flying foxes include the vulnerable Betsy Markey (D-CO), Carol Shea-Porter (D-NH), and youngling Gabrielle Giffords (D-AZ).
Each and every Democrat woman in the House and Senate is inarguably more batty than foxy, larger than life, and personally responsible for causing America to cry out for permanent flying fox extinction.
One male casualty of primary banishment is a scaly chameleon named Arlen Specter (D-PA).  Other vulnerable endangered species include Senator Harry "Devil's Hole Pupfish" Reid of Nevada, Russ "Warbler" Feingold of Wisconsin, and Pennsylvania's "Eastern Mud Salamander" Joe "Refused to be Bribed" Sestak.
Scientists contend that "Species spread out over larger areas [are] also more likely to be wrongly classified as extinct." Across the nation, from New Hampshire to California liberal Democrats are experiencing varied levels of political endangerment. Categories range from "critically endangered" to "conservation dependent" to a Pat Leahy (D-VT) "near threatened" leaving ultra-blue Chuckie Shumer (D-NY) and Daniel Inouye (D-HI) secure and "least concerned."
"According to the International Union for the Conservation of Nature, 22 percent of the world's mammals are at risk of extinction." Democrats are acutely aware that political extinction looms.  If Republicans pick up the predicted 10 seats in the Senate, 17% of Democrat Senators stand to be driven out.  If at-risk Democrats lose a possible 50 seats in the House, 20% will be consigned to exile, after which "Devil's Hole" Harry and Speaker Shrew will officially be categorized as critically endangered/soon to be extinct politicians.
However, in nature, "the complete data-set, 67 species that were once missing have been rediscovered," which in politics is a phenomenon that must be prevented at all costs. A species cannot survive without an intact habitat. Dr. Fisher maintains that it's unlikely endangered species "would have survived had [habitats] been cleared," which is precisely why it's time to clear havens occupied by mammals bearing Democrat markings. Ejecting the left from safe and protected native areas is the first step to ensuring extinction.
Flourishing Conservative philosophy has the muscle to choke off liberalism, ensuring the left is powerless to "gradually regenerate." In turn, officially dismissed politicians will be discouraged from returning to Washington DC to reproduce and rekindle a predatory political genus that would benefit the nation much more by remaining extinct.