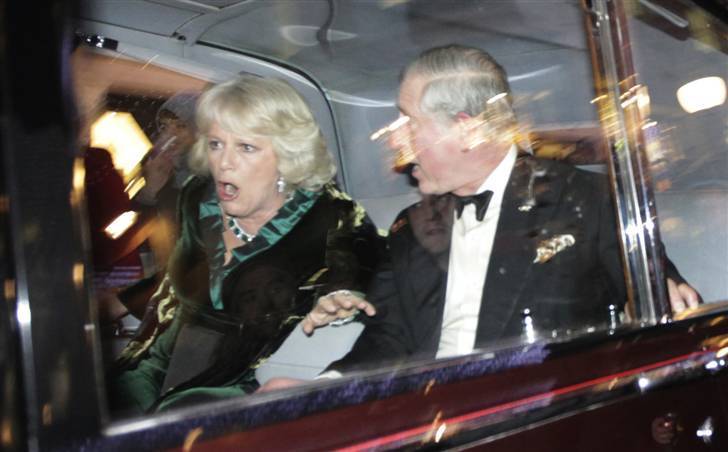 It was almost like Déjà vu:  A blond woman, who is also Prince Charles' ex-mistress/present wife having a threatening car issue.    Not being one who is a schadenfreude fan I have to admit, the irony of the situation did bring a smile as well as flashbacks to 1997 when Diana was dying in Paris, while Charles and Camilla were shacking up in London.
Seems as if  "furious student protesters attacked a car carrying Prince Charles and  wife, Camilla, vandalized buildings and battled riot police …[when]… a controversial hike in university fees triggered Britain's worst political violence in years…Many in the thousands-strong crowd outside booed and chanted 'shame' when they heard the result of the vote and pressed against metal barriers and lines of riot police penning them in."
In the frenzy, some chanted while attacking the royal couple's car screaming, "off with their heads!"
Ironically, Adnan Nazir, "a 23-year-old podiatrist who was following the protesters, said Charles, 62, kept his calm, gently pushing his 63-year-old wife toward the floor to get her out of the line of fire."
The floor of a crumpled car was exactly where Diana was found seriously wounded after a horrendous crash in Paris' Alma Tunnel. "One of the photos … showed Diana, identifiable by her blond hair, on the floor of the back seat of the crumpled Mercedes."
In fact it was Dr. Frederick Maillez, also a physician, who conveyed what he saw the night of Diana's death.  Fredrick's riveting testimony explained: "As I approached the tunnel, I saw smoke in the middle of the tunnel…moments after the Mercedes carrying Princess Diana and Dodi Fayed crashed into a pillar."
Diana was injured and died because of an accident in a lonely tunnel, while London "demonstrators set upon the heir to the throne's Rolls Royce as it drove through London's busy West End on its way to a theater. A group of up to 20 struck it with fists, sticks and bottles, breaking a window and splattering the gleaming black vehicle with paint."
Another strange coincidence having to do with Charles, Camilla, car trouble and Diana is that the Princess met her untimely end in a Mercedes-Benz W140.  However, her broken body was hauled to its resting place in a vintage White Rolls Royce similar to the one in which Charles and the Duchess of Cornwall suffered the attack.  The only difference:  The royal's vehicle was black – a color better suited to a  relationship splattered for years with infidelity and lies closely resembling the paint on the back of the Rolls.
Charles got [Camilla] on the floor and put his hands on her," to protect her Dr. Nazir said. The Prince of Wales was not around to protect the Princess when she needed help, because instead of being with her husband, Diana was wandering around Paris, while Charles was entertaining the "third person" in the royal couple's "crowded" marriage.
Prime Minister David Cameron rightly said: "the violence against the royal couple was 'shocking and regrettable'."  However, the Charles and Camilla's unfortunate security issue with paint and protesters was not nearly as 'shocking and regrettable' as the violent, premature death of Diana Princess of Wales in a car crash 13-years-ago.
Police said it was unclear whether the royals had been deliberately targeted, or were simply in the wrong place at the wrong time," which was quite different from Diana and Dodi Al Fayed who apparently were believed to be victimized by  paparazzi who relentlessly stalked the princess wherever she went, and who were ultimately blamed for the deaths.
After the brouhaha,  middle-aged, royal lovers, who I affectionately refer to as C & C, "arrived looking somber but composed at the London Palladium Theater, where they were attending a Royal Variety Performance." In the end, England's dowdy duo were alive and well and in one piece, which is quite different as to how Diana's broken body ended up, or as to how the princess' tragic story ended.
As she has with many other unsettling life events, Camilla managed to shrug off the whole protester/paint ordeal  saying, "there's a first time for everything." If any one knows, Parker-Bowles would know.  Camilla of Cornwall has personally been part-and-party to one of the the first instances, in recorded history, that a future king spurned and broke the heart of a beautiful princess for a woman who closely resembles an aging gentleman, only to have the princess conveniently die in an "accident"  making way for  Captain Kangaroo to be crowned  Queen.