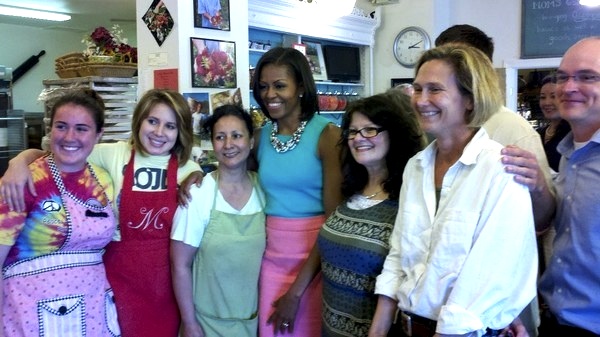 Originally posted at American Thinker. blog
Once again Michelle Obama has managed to exempt herself from her own rules and regulations in a very public way.  Swinging through Virginia, talking up her husband's many outstanding accomplishments such as recently insisting that the economy isn't doing 'fine' less than one day after he emphatically insisted the private sector was doing 'fine,' Michelle stopped for pie.
The Obamas love pie because pie perfectly symbolizes their world view.  Reportedly the family keeps Bill Yosses, the pie-making pastry chef in the White House whom the President has nicknamed "The Crustmaker," very busy.  Pie is so much a part of Obama life and philosophy that the first lady included four pie recipes in her book, American Grown: The Story of the White House Kitchen Garden and Gardens Across America.
Michelle Obama not only loves pie, she loves to use pie in object lessons, especially when prodding the herd toward socialist thinking.  Remember when Michelle Obama informed Americans how much of the pie we want and how much of the pie we'd have to give up so other people could have pie?
The difference is that Mrs. Obama also wants pie — the whole pie. And in case you haven't noticed, what Michelle wants, Michelle gets, and contrary to what she preaches, she doesn't share her pie with anyone.
Twenty-three miles southwest of 1600 Pennsylvania Avenue, the aroma of buttery crust and warm pie filling must have been wafting through the air in Occoquan, Virginia because the smell drew Michelle Obama in like a moth to a flame to Mom's Apple Pie Co.
Michelle's campaign "eat n' greet" entourage arrived at the family-owned bakery and waited while the excited pie gourmand "perused the shop's offerings of fresh fruit pies and jams, as well as old-fashioned candies and a collection of wines and beers."
Gleefully stalking the establishment's shelves, "Let's Move" Michelle exclaimed, "Oh there's wine! No one told me there was wine!"  Making her way to the display case filled with homemade pies, Mrs. Obama passed the blame for buying pies on a missing mystery person, saying "I will be killed if I don't come out of here with pie," and left with two double-crust, apple and sour cherry "man-sized" pies.
According to David Axelrod, Michelle is not alone in her affinity for pie; President Obama is also a big fan. Apparently, President Obama really, really loves sweet potato pie, which means that when the apple and sour cherry pies show up, he might be the one doing the killing.
The pie model is so ingrained in the Obamas that the President also likes to reference pie in speeches.  In fact, recently when referring to Mitt Romney's warning about the nation's "prairie fire of debt," the President called Romney's assessment "a cow pie of distortion."
Which brings us back to the first lady descending on Mom's Apple Pie Co. to scoop up fruity confections as a six-year-old girl serenaded her with "Ode to Joy" on the violin. The prospect of tart Montmorency cherry pie must have been so prominent in Michelle Obama's mind that she responded to the recital by saying something the Obama-pie-eaters seldom say to successful, hardworking Americans: "You've earned your pie."
So here we are again, being lectured to by a woman toting around double-crust pies while deciding who gets pie and who should give up some of their pie, based on who she feels "earned" pie.  Meanwhile, both Michelle and Barack have access to all the pie they want, but remain unwilling to agree that Americans who actually earn their pie should get to keep it.