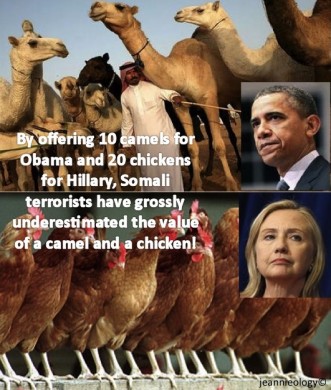 Originally posted at American Thinker. blog
Situated in the Horn of Africa, Somalia is known for many things, some of which include poetry, pirates, civil wars, body-cavity suicide bombs, frankincense, myrrh, and other exotic spices. Of late, Somalia is also known for being home to al-Shabaab, a violent insurgent group with a close affiliation to al-Qaeda. The U.S. State Department formally considers al-Shabaab "a threat to the stability of East Africa and to the national security interests of the United States."
Recently, the U.S. Rewards for Justice Program placed a bounty totaling $33 million on the heads of seven of the most dangerous al-Shabaab leaders living in Somalia.  The offer is as follows:
$7 million for information leading to the location of al-Shabaab founder Ahmed Abdi aw-Mohamed; up to $5 million each for information leading to the location of his associates Ibrahim Haji Jama, Fuad Mohamed Khalaf, Bashir Mohamed Mahamoud, and Mukhtar Robow; and up to $3 million each for information leading to the location of additional al-Shabaab leaders Zakariya Ismail Ahmed Hersi and Abdullahi Yare.
Responding to the announcement of the hefty rewards for information leading to the whereabouts of militant Somali terrorists, al-Shabaab came up with an imaginative counteroffer of their own: camels, hens and cocks in return for high-level U.S. officials.
Allegedly Fuad Mohamed Khalaf, al-Shabaab's leading fundraiser and a man with a $5 million bounty on his own koofiyad-shrouded head, responded to the Rewards for Justice announcement by posting an audio retort on jihadist websites.
Khalaf said, "Whoever brings the mujahidin information about the whereabouts of infidel Obama and the lady of Bill Clinton, the woman named Hillary Clinton, I will give a reward."
In other words, the militant group is looking for someone to deliver the President of the United States and his Secretary of State to Somali pirates for a cruise in a speedboat to al-Shabaab headquarters.
Poverty-wise, things must be getting better in Somalia because according to Khalaf, the terrorist group's reimbursement for the head of President Barack Obama turns out to be an enticing 10 — count 'em — 10 camels. Not to belittle the proposed payment or anything, but aren't all those camels a high price to pay for a guy who hasn't done a sand flea's worth of good here in America?
As for Mrs. Clinton's head, the terrorist group downsized the bounty from 10 camels to "10 hens and 10 cocks for Hillary," which is a tantalizing offer that might even pique the interest of Bill Clinton.  And although he's not officially mentioned in the 'most wanted' group, on the red bush squirrel market, Joe Biden could easily pull down at least the price of a tree rat.
In order to come up with the number of camels to be offered in the reward, al-Shabaab members obviously had to take a camel's age and strength into consideration as well as the power and status of the U.S. official they want cornered, captured and crucified.
At $300 to $1000 for an Arabian camel, al-Shabaab must feel Barack Obama is worth every penny of $3,000 to $10,000-worth of ten one-humped dromedaries. Judging from camel status in Somalia, the informant who discloses the whereabouts of Barack Obama would be the proud winner of a veritable camel bonanza.
As for Hillary, depending upon whether or not the snitch decides to haggle with the terrorist group, as it stands right now the price for the Secretary of State comes to about $71 USD for "10 hens and 10 cocks" which, at the going South African price, is approximately R30 or $3.57 a piece.
Not for nothing, but offering a pint of camel's milk and a chicken's egg as incentive to hand over Barack Obama and Hillary Clinton would have more than sufficed.
The offer made by the al-Shabaab-sponsored Somali Livestock for U.S. Officials Compensation Program proves that despite the militants' uncanny ability to creatively hide bombs in various and sundry body cavities, offering 10 whole camels and 20 fat, healthy chickens for two useless liberal politicians indicates the militants grossly underestimate the value of camels and chickens.