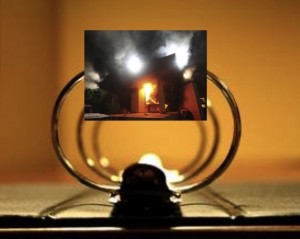 Originally posted at American Thinker. blog
A newly-formed band of Binder Bimbos is working diligently to convince America that Mitt Romney demeaned women during the second debate when he described how he, as governor of Massachusetts, went about balancing his male-dominated Cabinet with women.  Responding to a question on pay equity, Romney said, "I had the chance to pull together a Cabinet, and all the applicants seemed to be men. I went to a number of women's groups and said, 'Can you help us find folks?' and they brought us whole binders full of women."
Like salivating wolves waiting to pounce on prey, liberal women have spent lots of time lying in wait for Mitt Romney to utter anything at all that could be misconstrued to prove he's a woman-hating troglodyte. Thus far, the best they've come up with is "binders."
Erica Payne, progressive public policy expert, commentator, author, and founder of the Agenda Project, appeared on the Bill O'Reilly show where she stretched the Binder Bimbo idiocy so far that she likened Romney's debate comment to an Arab sheikh flipping the pages of a binder looking for women to stock his harem. After she said it, even Erica looked a bit embarrassed for proposing such a ridiculous analogy.
Meanwhile, the Binder Bimbos are in full attack mode.  Yet oddly enough, they have not condemned the women's groups who delivered the "binders full of women" to the Massachusetts governor. Worse yet, while out trawling for GOP offensive words and actions, these same women seem to have zero problems with Barack Obama calling the brutal slaughter of four Americans "not optimal." But then again, these are the same soulless individuals who protest "binders full of women" and applaud bio-hazard bins full of aborted babies.
Barack Obama's now infamous "not optimal" comment was made recently during a Jon Stewart interview.  Stewart posed a question that began, "I would say and even you would admit it was not the optimal response," about the Obama administration's muddled communication after the deadly attack in Benghazi, to which the president coldly retorted with what he no doubt thought was a clever twist on Jon's use of the word "optimal" by saying, "If four Americans get killed, it's not optimal."
Anyway, to Barack Obama's detriment, his emotionless response has now married the carelessly thought-out words "not optimal" with dead Americans in much the same way Romney-hating women are now associating themselves with three-ring binders.
Yet, amid all the binder blather is a broken-hearted woman named Pat Smith who lost her son.  Pat is the mother of Sean Smith, one of four diplomats that included former Navy SEALs Tyrone Woods and Glen Doherty and Ambassador Christopher Stevens, all of whom were killed during the raid on the consulate in Benghazi.
Mrs. Smith welcomed her son home in a coffin at Dover Air Force Base and continues to maintain that the truth about what really happened to her child is painfully slow in coming.
Speaking from her home in California, Mrs. Smith, 72, who actually has something more serious than binders to be upset about, described herself as being in "pure hell" since she lost Sean. Expounding upon Obama's "not optimal" comment, Pat said "It was a disrespectful thing to say and I don't think it's right. How can you say somebody being killed is not very optimal? I don't think the President has the right idea of the English language."
Pat Smith may be too respectful to admit it, but Barack Obama lacks the right idea about a lot more than the English language. However, what Mrs. Smith did do was take the President to task by saying, "It's insensitive to say my son is not very optimal – he is also very dead." Then the distraught mother admitted that "I've not been 'optimal' since he died and the past few weeks have been pure hell."
Sean Smith's mother concluded her comments by offering a candid assessment of Barack Obama's Comedy Central interview when she said "There's a lot of stupid things that have been said about my son and what happened and this is another one of them."
In light of Obama's callousness, a question needs to be posed to indignant Binder Bimbos everywhere: In the scheme of poorly chosen words, which is worse, "binders full of women," or the Commander-in-Chief describing the death of four men in service to America as "not optimal?"
The answer to the question is clear. Instead of pointing out the ongoing insensitivity being shown toward a San Diego mother mourning her dead son, on Joe Scarborough's MSNBC "Morning Joe" talk show Binder Bimbo Mika Brzezinski chose to blast Mitt Romney for the "binders full of women" statement. Brzezinski, who is likely planning to vote "like [her] lady parts depend on it," fumed at Romney about his attempts to recruit female cabinet members in Massachusetts. Mika told a disagreeing Joe that "It just happens to be a little bit insulting that he had to make up a story about trying to help women because he couldn't find one on his own," she said. "That's kind of a problem."
No – Mika, if you and the rest of the Binder Bimbos are so desperate to find a problem, how about focusing on a dishonest president who, for political expediency, told a made-up story to cover up a terrorist attack in Libya on 9/11?  Now, as a result of that deceitfulness, Barack Obama's once optimal prospects for reelection have been downgraded to "not optimal."