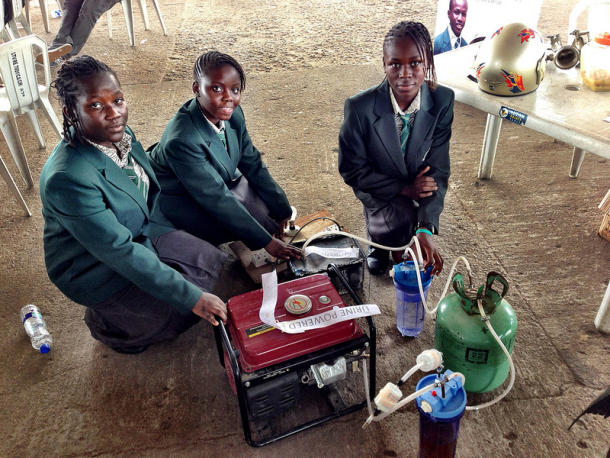 Originally posted at American Thinker. blog
Barack Obama is encouraging most minorities to bilk the system, give up hope, and continue to embrace racial animosity.  Meanwhile, in poverty-stricken Nigeria, four teenage girls have come up with a way to harness the power of urine to run a generator.
Nigerian High school students Duro-Aina Adebola, Akindele Abiola, and Faleke Oluwatoyin, all 14, and Bello Eniola, 15, entered their pee project in the Maker Faire Africa in Lagos, Nigeria.  Sounding like an African version of Yankee ingenuity, the Maker Faire Africa describes itself as "a community of makers."
What [Makers] have in common is an unwavering commitment to origin, ingenuity & innovation. A fellowship of creators who believe making is the most authentic form of manufacturing, and manufacturing is what forges a vigorous middle class … redefining the future of the world's most promising continent through our own authentic, relentless African ingenuity.
Because Lagos, Nigeria's urban center and wealthiest city, is at the mercy of frequent power outages, the girls' can-do attitude may have found a way to circumvent the kind of inconvenience many Americans experienced during Superstorm Sandy.  While Obama was handing out hugs and food stamps and sending in FEMA to write checks, far from New Jersey, Duro-Aina, Akindele, Faleke, and Bello were showcasing their start-up ingenuity in the form of a pee-powered generator.
It's unclear which plucky participant made the initial liquid contribution.  But what is clear is that four schoolgirls had the wherewithal to put urine into an electrolytic cell to drive power, and it worked.
It started with a need, and from there this is how it went: first the cell converted the urea to nitrogen, water, and hydrogen.  The hydrogen was then purified in a water filter, and from there it went into a gas cylinder.  The hydrogen was pushed by the gas cylinder into another cylinder of liquid borax, which removed moisture from the hydrogen gas.  It then went into a generator, which in turn produced six hours of urine-powered electricity.
The only problem with the effort is that according to Dr. Gerardine Botte, a chemical engineer at Ohio University who invented the urea electrolysis process, there are flammable/explosive risks associated with hydrogen gas.  Leave it to an American educator to put the kibosh on the girls' pragmatic approach to problem-solving.  Aren't there risks associated with gasoline and kerosene?  Dr. Botte, if we can go to the moon, can't we figure out how to harness the flammable nature of hydrogen?
Botte did suggest the students "work with an engineer to understand the technology and its appropriate applications" — which, she says, is "a way to make the wastewater treatment process more energy efficient."  The concept is not far-fetched; it's not the first time sewage has been considered as fuel for electricity.
Nevertheless, in Dr. Botte's view of the Nigerian urine-powered generator, "[i]t is a high school project, so don't take it [so seriously]."  What Botte does take seriously, however, is her own highly esteemed research as to whether, flammability notwithstanding, urine can "rescue hydrogen powered cars."
In the end, Duro-Aina, Akindele, Faleke, and Bello have proven once again that enterprising human beings will always find a way to power their own lives.  Luckily, these girls embarked on the pee-pee venture in Nigeria, where Barack Obama is unable to regulate or tax urine so as to quash everything intrinsic to the spirit of inventive improvisation.
So, as the president enables 50% of the American public to be indebted and dependent on the government for everything from food to electricity, in Lagos, Nigeria, with limited resources, four indomitable schoolgirls figured out a way to possibly forge a future for themselves with nothing more than a liter of urine.