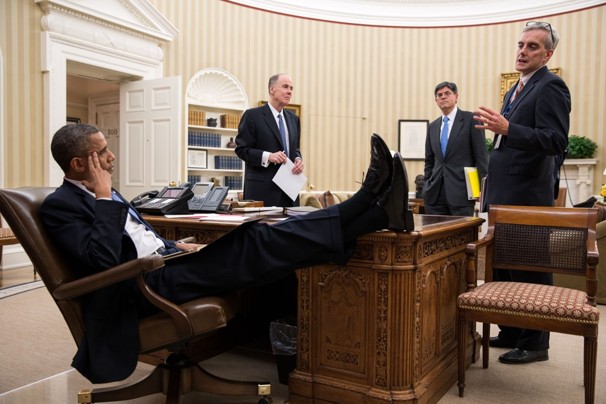 Originally posted at American Thinker. blog
The White House releases tons of pictures of Obama family dog Bo; pictures of Michelle Obama gardening and hula-hooping; there are even photos of President Obama teaching the Resolute Desk how to do double duty as an ottoman. What there aren't a lot of photographs of are America's top general in the "war on women," Barack Obama, and his underrepresented high-ranking female advisers.  Why?  Because besides the president's Senior Advisor and admitted 'main man' Valerie Jarrett, there simply aren't very many women around.
So what does this say about Barack Obama and the left's contrived "war on women?"  Well, given the fact that high-level women are a scarcity at the White House and Obama pays his female staffers about 18% less than his male staffers, the definition of the "war on women" obviously has nothing to do with political or economic equal rights.  Instead, if Sandra Fluke and her Polycystic Ovary Syndrome sisters are the chosen poster girls for female oppression, then apparently outfitting women for carefree sex is how liberals plan to win the gender conflict.
After all, didn't Democrats haul Sandra Fluke out in front of the House Democratic Steering and Policy Committee on women's health and contraception to expound upon American women's need for free birth control? That right there should have insulted liberated ladies who for years have tried to separate sex from significance.  But then again, if Obama consistently pays his female staffers $11K less than the males, it's understandable that the president might feel that working women could be a little pressed for cash to purchase the necessary protection for after-work dalliances.
Georgetown University Law School graduate Sandra Fluke became a media star when Rush Limbaugh connected the dots for America.  Rush merely pointed out that demanding health insurance provide free birth control in order to facilitate consequence-free sex presents an opportunity for women to employ government entitlements as a means to earn extra cash.
The left was apoplectic that Limbaugh dared to suggest that Sandra Fluke may actually be what she herself had intimated she might be – so much so that the President took the time to call Sandy F. to "express his disappointment that she has been the subject of inappropriate personal attacks."  As a parent, Obama mentioned that Sandra's parents, Richard and Betty should be proud of their daughter's willingness to "exercise her rights as a citizen to speak out on an issue of public policy."
Let's remember that when casually discussing birth control, abortion, and his own twisted sense of morality, it was the president who mentioned that Sasha and Malia should not be "punished" with a baby.  That bizarre comment coming from a father of two young girls indicates that career choices and potential income are not the first and foremost opportunities Obama anticipates will face his daughters.
Nevertheless, it was during Obama's reelection campaign that Ms. Fluke's dog-and-filly show took to the road.  The "democrat darling" traveled the nation representing victimized womenfolk and portrayed Republicans as Neanderthals trying to deprive the fairer sex of the necessary accoutrements for a healthy sex life. But the accolades didn't stop there; Sandra also earned a slot as a featured speaker at the Democratic National Convention and TIME Magazine even considered Her Flukeness for Person of the Year.
Meanwhile, as Sandra was busily helping secure Obama's reelection with the hyper-dependent Julias of the world, female employees working on Obama's reelection campaign were earning an "average of $6,872…compared with an average of $7,235 for male employees. That is a difference of $363, or 5.3 percent."
Then, recently, a White House Flicker photo was released of a meeting of Barack Obama's top advisers.  The picture was void of even one female representative, so either the president's top-level ladies were busy using those free contraceptives, or women are not welcome in the president's innermost circle.
Couple the missing female Obama advisers with the president's female staffers and campaign employees being paid considerably less than males and there's a clear indication that the liberal "war on women" fiction involves something besides addressing traditional feminist issues.
Therefore, based on the lack of female representation and continued salary inequity in the Obama administration, as well as the emphasis in the "war on women" being on the "right" to a paternalistic birth control entitlement, it appears liberals believe women are reliant on men to protect their right to be ready for sex at a moment's notice. It also explains why, on behalf of American women, liberal men like Barack Obama will keep fighting the good fight against conservatives who continue to insist that honoring a woman isn't about equipping her for worry-free sex at taxpayer expense.