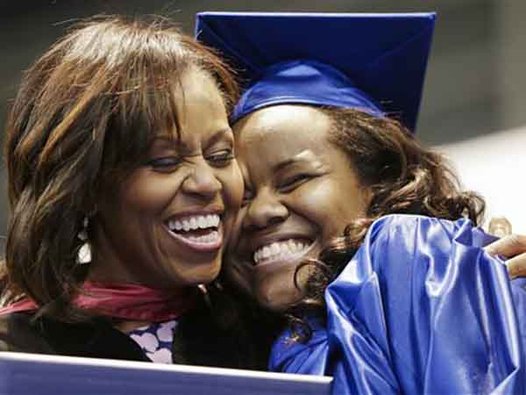 Originally posted at Clash Daily
Self-effacement seems to be the newest political ploy in the Obama bag of tricks. Recently, the president exhorted Morehouse College graduates to reach for success by telling them all about his youthful mistakes when he said, "Sometimes I wrote off my own failings as just another example of the world trying to keep a black man down.  I had a tendency sometimes to make excuses for me not doing the right thing."
Until Americans can figure out why, since the world no longer keeps black men down, Barack Obama is still "not doing the right thing," maybe we can glean some clues from Obama's remarks concerning the hard work of family relationships. At Morehouse, Mr. Obama also confessed that "Michelle will tell you I'm not perfect.  She's got a long list of my imperfections.  Even now, I'm still practicing, I'm still learning, still getting corrected in terms of how to be a fine husband and a good father."
Since then, occasional single mother Michelle Obama has officially confirmed that the list of Obama's "imperfections" is, indeed, long. The first lady concurs: he's in need of constant correction, which is something a nation full of Barack Obama's victims already knew.
That's right, in her only high school commencement speech this year, in the gymnasium of Tennessee State University in Nashville, Tennessee, Mrs. Obama spoke to a group of 170 dumbfounded Martin Luther King Jr. Academic Magnet High School graduates about topics that included her husband's inadequacies.
Has anyone noticed that everywhere Michelle goes lately, she identifies one thing or another with her own youth? Similar to how her husband, who peppers his speeches with "I, me, my," on a visit to Chicago Mrs. Obama said of a teen victim who lost her life to gun violence, "Hadiya Pendleton was me, and I was her." Then in Nashville, Tennessee, Mrs. Obama noted that "MLK reminded me of my own high school experience in Chicago."
After that, she told the excited graduates, many of whom are headed toward college, that her "Number one goal was to go to a high school that would push … and challenge" her. Then, Mrs. Obama said, "I wanted to go somewhere that would celebrate achievement. A place where academic success wouldn't make me a target of teasing or bullying, but instead would be a badge of honor."
What happened to Michelle's badge of honor between high school and college? The first lady, who – like her husband – has never disclosed her GPA, conveyed an odd message to the college-bound high school graduates: "[I] spent too much of [my] own time in college focusing on academic achievements." What is up with that?
Then, before suggesting that public service is a more noble pursuit than pursuing a lucrative career, and sounding more like she was dumping in a cathartic counseling session than giving a keynote speech, Michelle told the graduates, "My message to all of you today is this: Do not waste a minute living someone else's dream. It takes a lot of real work to discover what brings you joy." Ya' mean like the joy of having closets full of haute couture?
And while "her success in college and law school led [her] to a high-profile job," Mrs. Obama shared personal insight with young people on the cusp of pursuing a future determined by education: "[y]ou won't find what you love simply by checking boxes or padding your GPA."
From there, the first lady's remarks veered from the peculiar into the truly bizarre. What high schooler comes to a graduation ceremony expecting to hear the keynote speaker first talk up personal success and then warn about the certainty of impending failure?
After Barack spent the weekend humbly sharing personal failures at Morehouse, Michelle, who Obama implied still corrects him "in terms of how to be a fine husband and a good father," instructed students to "strike your own path in college and life and work to overcome failures with determination and grit."