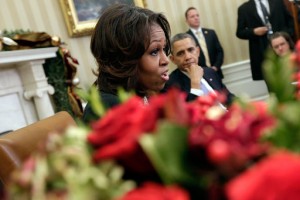 Originally posted at American Thinker. blog
Now that it's been firmly established that nothing Barack Obama says has one iota of credibility, the newest addition to the "Shove ObamaCare down America's Throat" Brigade is Mama Michelle Obama.  Since she's a mother and all, the White House has decided that she'd be a better person to promote the ACA hooey than Barack, who thus far has proven to be less than straightforward.
Michelle Obama, who, Jay Carney pointed out, is both a mom and "a great messenger," is the same woman who once encouraged mothers across America to breastfeed their babies.  Now, on behalf of her husband, Michelle has been recruited to harangue mommies into goading the kids toward suckling at the government teat for life.
Obama has already said that "face-to-face interaction" is vital in selling his health insurance plans.  Therefore, know this — when Mrs. Obama has her hands clasped on her lap and leans forward in a chair to address anyone, the woman means business.
In a nutshell, her words of wisdom to mothers, who obviously don't know what they're doing without her guidance, is that truly nurturing moms hand the well-being of their own offspring over to the government, and then navigate the village that it takes to raise a child to "sign up their [children's] friends" for ObamaCare.
Although the first family's Christmas card made no mention of "Peace on Earth" or "Goodwill toward Men," Michelle said that when she thinks of ObamaCare, "the words that come to mind … are peace of mind."

Mama Obama's seasonal "Over the river and through the woods to Grandmother's house we go" advice was also timely.  The first lady suggested that when the "horse that carries the sleigh" pulls up in front of Granny's house, the old lady has a public service to perform.  Forget the candy canes, the figgy pudding, and the presents; according to Michelle, "[y]ou know, if you've got grandkids, make it a Christmas treat around the table to talk about a little health care."
Can you see it now?  Kids with "visions of sugar plums dancing in their heads," and Grandma gathers them around the table to talk about health care?
Nonetheless, while Michelle is wiggling her toes in the Oahu sand on a $4-million vacation, back home in Peonville, nothing says "Christmas treat" better than getting the grandkids together to "gather around" and talk about ObamaCare.  Or better still, if Grandma misses the chance on Christmas, when the Times Square ball drops and Obamacare D-Day arrives, she can, "[y]ou know, ring in the new year with a [conversation about] new coverage.
Speaking on behalf of her husband, who glared at her silently throughout her mom-to-mom ObamaCare monologue, Mama Obama insisted that prodding the reluctant toward her husband's signature legislation is "not about politics"; it's about a "safety net."  That's right — government welfare is no longer about politics; it's merely a tool to safeguard endangered Americans by way of socialized medicine.  It's to ensure that individual bankruptcy is caused through government over taxation, not by paying hard-earned money to evil insurance and pharmaceutical companies…or worse yet, enriching greedy physicians.
Mrs. Obama stressed that this Christmas, it's a mother's job to convince the unconvinced, especially the "young invincibles," that despite their youthful bravado, they aren't as invincible as they think.  The message is that until they're 26-year-old fully grown adults, they need to remain dependent on Mom and Dad, and then, after slowly weaning off the parental pap, they should be encouraged by Mom to make a smooth transition onto government pabulum.
Mama Obama reminded the other moms that although they have zero choice when it comes to health care, the "beauty" of Obamacare is that "[p]eople have choices."  They can choose a health care plan that they have no choice but to sign up for.

"They can go onto the website" — which is almost impossible to get on — where, Michelle said, "they can talk to a navigator," who can tell them how to defraud the system so that "they can learn for themselves what the law means and [mostly] what it doesn't mean."
Michelle said, "And that's really, really what we want people to do, is educate yourselves. Get that education. Make the choice that's best for your family because the options are there."
Prior to Michelle sharing her thoughts, President Obama already had said that despite the "rocky start" with the healthcare.gov website, hundreds of thousands of people are signing up for health insurance.  At the same time, they're also having their personal security breached and their premiums made unaffordable, not to mention coming to the harsh realization that the choices they don't have include keeping trusted family doctors and retaining coverage for prestigious cancer or research hospitals if need be.
That's why, after giving her ObamaCare-for-Christmas exhortation, besides serving a slice of holiday pie to moms who've forfeited most of their own personal pie already, it would have been wonderful if, off the record, Mrs. Obama had revisited words of wisdom she imparted in days past.

With the president smiling proudly, the first lady could have reminded the moms she was addressing of a similar health care reform talk she gave, where she cudgeled another group of guilt-ridden women with the words: "in order to get things like universal health care and a revamped education system, then someone is going to have to give up a piece of their pie so that someone else can have more."