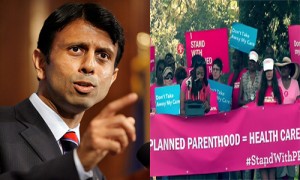 Originally posted at American Thinker. blog
Borrowing the idea from Barack Obama, who started a trend when he turned the People's House into a rainbow-colored homage to same-sex marriage, Louisiana governor Bobby Jindal must feel that murdering living human beings and selling their body parts calls for an equally bold statement.
Similar to looking away from pictures of Nazis murdering Jews because such unsettling images distract from pressing issues like Bruce Jenner transitioning into I Am Cait, by and large, the general public has refused to watch the Center for Medical Progress's gruesome Planned Parenthood videos.
As far as Governor Jindal is concerned, willful blindness is not an option.
That's why the pro-life leader set up a huge screen and speakers in front of the governor's mansion in Baton Rouge, and, instead of paying tribute to gay pride, Governor Jindal has decided to host a round-the-clock showing of the undercover videos exposing Planned Parenthood's illegal sales of baby parts.
And so, like a bucket of ice dumped over the head of America's collective conscience, and in an effort to get the clueless to focus on the horror of Planned Parenthood clinicians nonchalantly discussing the dissection and sale of body parts of aborted babies, the Louisiana governor decided that in lieu of a Jumbotron, a continuous loop on a "truth-o-tron" would be the best way to jar the public into understanding what the nation's largest abortion provider is really all about.
Planned Parenthood was already protesting Jindal's recent call to investigate the abortuary, as well as his decision to block Medicaid recipients in Louisiana from receiving care at Planned Parenthood clinics.  In response, the organization's Louisiana state director, Melissa Flournoy, declared, "Governor Jindal isn't even in Louisiana today, but he's made sure to prove that he's always ready to put politics before Louisianan's [sic] health."
About the screening, Flournoy called the continuous loop "a stunt."
Funding protests and audiovisual broadcasts aside, one can't help but wonder whether Flournoy considered President Obama's Gay Pride White House proclamation a "stunt" or having the murdered Cecil the Lion's image projected onto the Empire State Building a "stunt."
Either way – sort of like asking Lizzie Borden to medically address a severe axe wound – Flournoy argues that besides killing living human beings and selling their body parts for profit, Planned Parenthood also serves the medical needs of women.
Jindal's response to the murdering medical providers at Planned Parenthood has been unflinching.
Despite the governor acknowledging Planned Parenthood's constitutional right to protest, like a mandatory sonogram prior to an abortion, Jindal's office warns that it will "ensure that anyone who shows up will … witness firsthand the offensive actions of the organization they are supporting."
Rivaled only by Obama's same-sex White House light show, Governor Bobby Jindal believes that facing the unvarnished truth of the barbarism that Planned Parenthood passes off as women's health services is more than worthy of a governor-sponsored, giant-sized exposé.
And so thanks to Bobby Jindal, when abortion advocates sporting pink T-shirts arrive at 1001 Capitol Access Road in Baton Rouge, like it or not, the protestors will be forced to watch a playful technician demonstrate, before scissoring through a face to retrieve an intact brain to sell to medical researchers, how easy it is to have a little fun restarting the heartbeat of a born-alive baby.