Originally posted at American Thinker.
Notwithstanding comments concerning the injustices visited upon black boys skulking around housing projects in hoodies or robbing convenience stores, Obama's packed schedule makes it literally impossible for him to comment on trivial things.
Take for example Obama's deafening silence concerning a white woman being shot to death by an illegal felon in a sanctuary city, or the long list of white cops being murdered by black thugs. Lest we forget, Obama hasn't had a spare minute to comfort families devastated by illegal immigrant-inflicted mayhem, or a split second to be overly sympathetic toward the families of unarmed military personnel at recruiting stations who were ambushed and killed by terrorists.
However, what Obama did squeeze into his busy schedule was time to encourage a Muslim boy of color by the name of Ahmed Mohamed.
Mohamed is the 14-year-old who rose to liberal prominence after he thought it would be an excellent idea to wire up a briefcase with the guts of a decades-old digital clock and bring it to school to showcase his astounding scientific aptitude.
Unfortunately for Ahmed, contrary to the advice of his science teacher, who advised him not to show it to anyone, the alarm in the clock actually went off, alerting a less understanding teacher. As a result, rather than being given the Most Likely to Succeed in Science award, the Muslim clockmaker was arrested for possibly having on his person a timed explosive device.
So, let's recap: Barack Obama's could-be son Trayvon was in possession of Skittles and an Arizona fruit drink; Michael Brown, the cause of Obama being "heartbroken," had Swisher Sweets cigars; and Ahmed "As-salamu alaykum" Mohamed, son of a prominent imam, had a digital clock. The problem is that, had Ahmed's creation been an actual bomb, to this day, CNN would still be asking why no one was alerted to the suspicious-looking package.
Thankfully, at least for Ahmed, none of that matters, because just as he felt it was his duty to phone up Sandra Fluke to applaud her for begging for free contraceptives on Capitol Hill, the president instantly tweeted a presidential high-five to fake-bomb-builder Ahmed:
How would the Secret Service handle that situation? And is the president unaware that bringing what appears to be a hoax bomb to the White House (or to school) denotes a distinct lack of judgment and common sense on Ahmed's part?
Guess so! Because, according to Obama, clocks that resemble homespun bombs are downright inspirational!
However, what is not inspirational, according to Barack Obama, is a teenage black boy who is as passionate about politics as little Ahmed the NASA geek is about finding underhanded ways to "expose" Muslim insensitivity.
Thirteen-year-old C.J. Pearson has made a name for himself via his YouTube rants pointing out to Barack Obama that left-wing politics do nothing to benefit anyone, let alone the black community.
And to prove how uninspired Barack Obama is by that sort of message, the president found the time to venture back to Twitter to send a message to C.J. Pearson that was quite the opposite of the tweet he sent Ahmed Mohamed.
C.J. was not praised by the president for his cool YouTube videos, nor was he invited to the White House, commended for being inspirational, or told that kids like him are what makes America great.
Instead, like a malicious 10-year-old, Barack Obama blocked C.J. on Twitter so that the kid could not see or comment on the president's feed. In other words, C.J. Pearson was the victim of a Barack Obama-induced late-term cyber-abortion.
And why was C.J. Pearson cyber-aborted? Because rather than stuffing Muslim activism into a briefcase that looked like a bomb and calling it a clock, at 13 years old, C.J., a patriotic, all-American kid, with clarity and logic, makes a daily effort to confront the president of the United States on issues that need addressing.
That's why, merely for daring to disagree, C.J. Pearson, who urged the president to invite him to the White House for an interview, is being treated with the sort of contempt the likes of Bibi Netanyahu has repeatedly endured from the derisive, thin-skinned Barack Obama.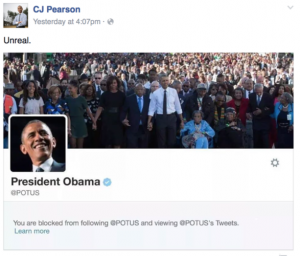 Who would have thought that a 54-year-old man who sees racism everywhere he turns would play favorites with one brown-skinned boy and then reject and punish another brown-skinned boy based solely on the latter's political leaning?
Rest assured: if another Freddy Gray, Eric Garner, Trayvon Martin, Michael Brown, or Muslim wunderkind Ahmed Mohamed should need an apologist or a word of encouragement, Barack Obama will be right there to accommodate the need.
As for C.J., he can go pound sand.
Meanwhile, despite C.J. Pearson possessing a screen grab proving he was blocked, a White House renowned for distorting the truth is crying foul. In response to the accusation of infantile behavior, America's puerile president's spokespersons are maintaining that the boy they blocked was never blocked from the #POTUS Twitter feed.
Which leaves one speculating whether C.J.'s reinstatement was a result of Pope Francis being in town, or whether the White House is worried a black boy with the wit and the wherefore to run rings around Barack Obama will be clever enough to accuse the nation's primary race-baiter of blocking him because he's black.