Originally posted at American Thinker.
Remember when President Obama refused to lay down his golf clubs because he thought it would send a message of weakness to terrorists?
Well, in response to another terrorist attack, the president again showed "ISIL" who's in charge – this time by refusing to sit out a tango.
https://www.youtube.com/watch?v=AOOPNxB_zcI
Unfortunately, his Argentinian partner was no Ellen DeGeneres, which may be why the president was so stone-faced.
Either that, or dancing with a beautiful woman reminded Obama of the scary look Michelle shot him after he danced with Thalia on Fiesta Latina night at the White House in the first year of his presidency.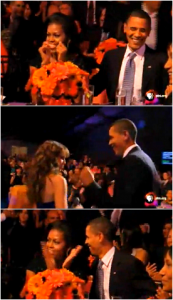 Meanwhile, in Brussels…